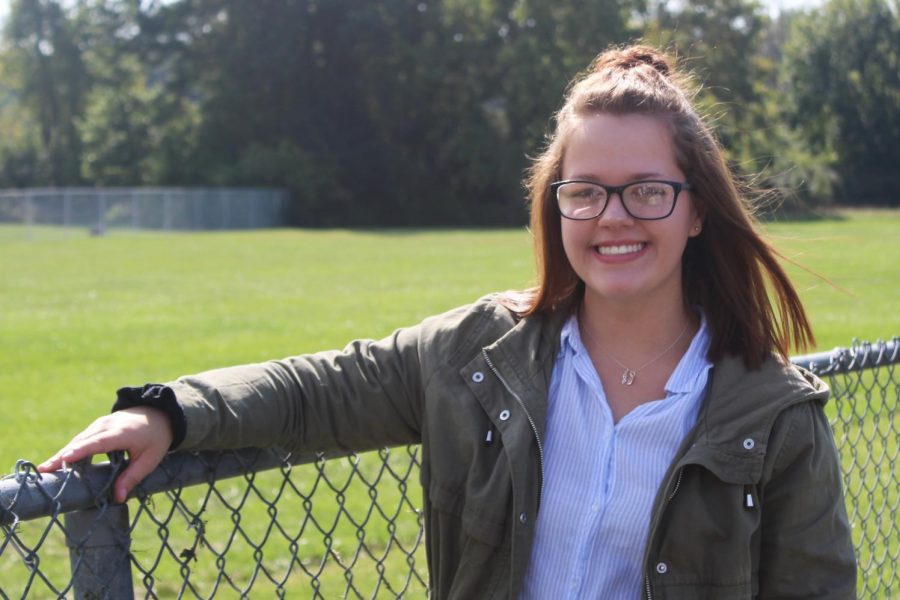 Birthday: Oct. 26, 2000


Hobbies/Interest: Playing electric, acoustic, and bass guitar, as well as ukulele. I also enjoy drawing, reading, writing, and spending time with my friends and family.


Favorite Quote: "Keep exploring. Keep dreaming. Keep asking why. Don't settle for what you already know. Never stop believing in the power of your ideas, your imagination, your hard work to change the world." - Barack Obama


Favorite Book: "The Magic Strings of Frankie Presto" by Mitch Albom


Plans After High School: Attending a college or university to pursue a doctoral degree in psychology, as well as writing for a college newspaper.


Jenna Robinson, Editor in Chief
May 17, 2019

A farewell from Jenna Robinson, editor in chief

(Story)

May 17, 2019

The Eclipse seniors say goodbye

(Story)

May 17, 2019

Golf scratched by Tigers

(Story/Media)

May 15, 2019

Golf loses last two matches two strokes apiece

(Story)

May 13, 2019

Retirement offers opportunities for Puffer

(Story/Media)

May 08, 2019

Golf scorched by Dragons

(Story)

May 06, 2019

Bishoff excels in school, sports

(Story)

May 01, 2019

Golf stung by Linden

(Story)

May 01, 2019

Five seniors share their plans for the future

(Story/Media)

Apr 26, 2019

Richards, Walker, Ramey take charge of girls track

(Media)

Apr 26, 2019

Golf drops close matches to the Bronchos, Mustangs

(Story)

Apr 24, 2019

Golf soars over the Blackhawks

(Story/Media)

Apr 24, 2019

May, Emmendorfer win prizes from The Eclipse March Madness Challenge

(Story)

Apr 22, 2019

Celebration dinner honors high-achieving seniors

(Media)

Apr 17, 2019

Golf takes eighth in Pre-Season Metro League Tournament

(Story)

Apr 12, 2019

An open letter to my dog: College won't break our bond

(Story/Media)

Apr 01, 2019

Gronauer turns down scholarship, joins David Blaine on tour

(Story)

Mar 25, 2019

The Eclipse wishes readers a safe, enjoyable spring break

(Story)

Mar 22, 2019

Grab your wallets, ear plugs: Student Council hosts musical fundraiser

(Story)

Mar 22, 2019

Hornets spring into sports

(Story/Media)

Mar 20, 2019

March is Reading Month: Readers fall for romance novels

(Story)

Mar 18, 2019

Alpin lives with autoimmune disease, embraces friendship

(Story/Media)

Mar 18, 2019

March is Reading Month: Science fiction twists the truths of reality

(Story)

Mar 13, 2019

Women's History Month: 'Notorious RBG' inspires through the decades

(Story)

Mar 01, 2019

Parish signs with Trinity to play softball

(Story)

Mar 01, 2019

Struck by Lightning, boys basketball season ends

(Story)

Feb 27, 2019

Boys basketball breaks 20-year district curse

(Story)

Feb 25, 2019

Boys basketball beats Bronchos, falls short to Mustangs

(Story)

Feb 20, 2019

Freshmen struggle through first semester

(Story/Media)

Feb 20, 2019

Seniors win final home game in boys basketball

(Story)

Feb 15, 2019

Dawan leads boys basketball over Blackhawks

(Story)

Feb 11, 2019

Boys basketball scorched by Dragons

(Story)

Feb 08, 2019

Kearsley buried in snow days, puts safety first

(Story)

Feb 08, 2019

Responsible Pet Owners Month shines a light on proper animal care

(Story)

Feb 06, 2019

Boys basketball loses to league-leading Linden

(Story/Media)

Feb 04, 2019

Silvas, Pano lead Hornets against Fenton

(Story)

Feb 01, 2019

Students strum proudly on National Ukulele Day

(Story/Media)

Jan 25, 2019

Local woman shares her story for Holocaust Remembrance Day

(Story)

Jan 25, 2019

Boys basketball picks up two victories in last three games

(Story)

Jan 17, 2019

The Eclipse takes a break for exams

(Story/Media)

Jan 14, 2019

Silvas, Dawan lead boys basketball past the Trojans

(Story)

Jan 09, 2019

Eagles soar over boys basketball

(Story)

Jan 07, 2019

Boys basketball slain by Dragons

(Story)

Jan 04, 2019

Boys basketball wins holiday showcase

(Story)

Dec 21, 2018

Taco Bell voted best fast food option in Eclipse survey

(Media)

Dec 21, 2018

Three treats to bring cheer this holiday season

(Story/Media)

Dec 19, 2018

Boys basketball kicked by the Bronchos

(Story)

Dec 17, 2018

Boys basketball squashes the Tigers' roar

(Story)

Dec 14, 2018

Clarambeau continues festive traditions at KHS

(Story)

Dec 12, 2018

Boys basketball's rally falls short at Flushing

(Story)

Dec 10, 2018

Boys basketball blows past Bentley

(Story)

Dec 07, 2018

'The Grinch' causes students' hearts to grow two sizes

(Story/Media)

Dec 05, 2018

Boys basketball soars past the Falcons

(Story)

Nov 30, 2018

Hornets kick off winter sports

(Story/Media)

Nov 15, 2018

The Eclipse changes publishing schedule

(Story)

Nov 06, 2018

Seniors lack enthusiasm for voting

(Story/Media)

Nov 01, 2018

Locked media center leaves students, teachers piqued

(Story/Media)

Oct 25, 2018

Forget the tricks: Focus on these treats this Halloween

(Story/Media)

Oct 25, 2018

It's a 'purr-fect' time to celebrate National Cat Day

(Story)

Oct 18, 2018

Robinson wins distracted driving scholarship

(Media)

Oct 16, 2018

Counselors help parents, students at Financial Aid Night

(Media)

Oct 16, 2018

NHS encourages students to join the fight against breast cancer

(Story/Media)

Oct 11, 2018

Seniors offered second chance to order spirit wear

(Story)

Oct 09, 2018

Even though immoral, Columbus should still be remembered

(Media)

Oct 09, 2018

Staley crowned homecoming queen

(Story)

Oct 09, 2018

Juniors face freshmen in battle of box stacking

(Story)

Oct 09, 2018

Freshmen defeated by seniors in spirit jug competition

(Story)

Oct 09, 2018

Cheer stunts into homecoming

(Story)

Oct 09, 2018

Seniors show their strength at homecoming pep assembly

(Story)

Oct 05, 2018

Homecoming events inspirit community

(Story)

Oct 03, 2018

Seniors show their superpowers for spirit week

(Story/Media)

Oct 03, 2018

Students take on superhero personas

(Story)

Oct 01, 2018

Caffeine consumption will increase on International Coffee Day

(Story/Media)

Sep 27, 2018

Homecoming spirit days start next week

(Story/Media)

Sep 25, 2018

The Eclipse welcomes a new year of writing

(Story)

Jun 13, 2018

The Eclipse logs off for the summer

(Story)

Jun 07, 2018

An open letter to my friend who feels like life isn't worth living: I am here for you

(Story)

Jun 05, 2018

Brendan White discovers an 18-year-old secret

(Story)

May 22, 2018

An open letter to my mom: My admiration for you is immeasurable

(Story)

May 18, 2018

The Eclipse will slow down after seniors leave

(Story/Media)

May 18, 2018

The Eclipse seniors say goodbye

(Media)

May 11, 2018

Lupus Awareness Month brings visibility to an invisible disease

(Story)

May 04, 2018

Students are enthusiastic for 'Incredibles 2'

(Story)

May 01, 2018

I am a strong woman

(Story)

Apr 16, 2018

Take a deep breath, it's National Stress Awareness Day

(Story/Media)

Apr 12, 2018

Thompson wins prizes from The Eclipse March Madness Challenge

(Story/Media)

Mar 27, 2018

Tennis team opens season with a victory

(Story)

Mar 16, 2018

Women's History Month: Angelina Jolie strives as an actress, leader

(Story)

Mar 14, 2018

Teachers shouldn't have to carry weapons in school

(Story)

Mar 13, 2018

March is Reading Month: Fantasy books transport readers to different worlds

(Story/Media)

Mar 08, 2018

Society lacks empathy, leads to entitlement

(Story)

Feb 23, 2018

DiGenova, Ruhstorfer advance to wrestling state finals

(Media)

Feb 08, 2018

ACT WorkKeys could disappear, reducing state tests for juniors

(Story/Media)

Feb 07, 2018

Junior Krista Staley faces world with positive attitude

(Story)

Jan 31, 2018

Norovirus spikes in Genesee County

(Story/Media)

Jan 19, 2018

Vine could be making a comeback with Vine 2.0

(Story)

Jan 08, 2018

Brazilian exchange student hopes to develop independence

(Story/Media)

Dec 22, 2017

2017 was rough, so I'm hoping for better luck in the new year

(Story)

Dec 22, 2017

Poor attendance affects grades negatively

(Media)

Dec 15, 2017

Three treats students can make for the holidays

(Story/Media)

Dec 15, 2017

Christmas spirit week will bring holiday cheer to students, staff

(Story)

Dec 11, 2017

Kindness is encouraged among students, faculty

(Story)

Dec 04, 2017

'Wonder' touches hearts of viewers

(Story)

Nov 17, 2017

Flint Farmer's Market offers free immunizations this Saturday

(Story)

Nov 15, 2017

'To Kill a Mockingbird' shouldn't be removed from any curriculum

(Story)

Nov 08, 2017

Clark's chameleon adds color to her life

(Story)

Oct 25, 2017

Harry Potter corn maze amazes all ages

(Story/Media)

Oct 25, 2017

A first car is an exciting ordeal

(Story)

Oct 18, 2017

Haunted houses are a thrilling fall activity

(Story)

Oct 16, 2017

Cheerleaders pep up KHS with a stunt

(Story/Media)

Oct 16, 2017

Baltosser, Wolfe show off their crowns

(Story/Media)

Oct 16, 2017

Dance team prepares to boogie for the crowd

(Story/Media)

Oct 13, 2017

To my long distance best friend, our friendship will stay strong

(Story)

Oct 11, 2017

Online hacker holds teen's computer hostage

(Story/Media)

Oct 06, 2017

Homecoming spirit days begin next week

(Story/Media)

Oct 02, 2017

Juniors are determined to be successful this school year

(Story/Media)

Oct 02, 2017

Patrick takes the crown in Mr. Kearsley competition

(Story/Media)

Jun 09, 2017

Some students plan to work this summer

(Story)

Jun 05, 2017

Teens use high school as an excuse to be immature

(Story)

Jun 02, 2017

My summer will begin with a slow, steady recovery

(Story/Media)

May 31, 2017

Dogs bring joy to people's lives

(Media)

May 22, 2017

An open letter: Thanks to the band that's helped me succeed

(Story)

May 16, 2017

Going into surgery's nerve-racking, recovering is mixed with up's and down's

(Story/Media)

May 12, 2017

Having an injury is a major setback, especially with school

(Story/Media)

May 11, 2017

Skateboarding in the park turned into an ER visit

(Story/Media)

May 05, 2017

Genesee Opportunity offers money to every graduate

(Story/Media)

May 03, 2017

Besides saving lives, insulin makes life better

(Story/Media)

Apr 20, 2017

Local bands offer great music

(Story)

Apr 10, 2017

A concert shouldn't be watched through a phone screen

(Story)

Mar 24, 2017

Immigration strengthens Kearsley's community

(Story/Media)

Mar 20, 2017

The flu affects thousands, past and present

(Story)

Mar 15, 2017

Davis shapes her future as she prepares for college

(Story)

Mar 10, 2017

You can lead a positive, happy life

(Story)

Mar 09, 2017

Five students express their tastes in music

(Story/Media)

Mar 08, 2017

Teens drive distracted more often compared to other drivers

(Story)

Feb 28, 2017

An open letter: My brother showed me the world from a new perspective

(Story)

Feb 21, 2017

Mallory Simms strives to be the best dancer she can be

(Media)

Feb 15, 2017

Like magic, Tyler Gronauer lives his dream instead of chasing it

(Story)

Feb 08, 2017

Movie production under investigation for animal abuse

(Story)

Jan 31, 2017

Teens can help treat acne with homemade masks

(Media)

Jan 19, 2017

An open letter: My best friend gave me a reason to smile

(Story)

Jan 18, 2017

Music impacts teenagers deeply

(Story/Media)

Jan 11, 2017

Beauty barriers continue to be broken by plus-size model

(Story)

Dec 22, 2016

Dickens' 'A Christmas Carol' celebrates anniversary this week

(Story)

Dec 22, 2016

Five sophomores share their goals for the new year

(Story/Media)

Dec 14, 2016

Animal adoptions increase during the Christmas season

(Story)

Nov 29, 2016

Presidential election leads to bullying in schools

(Story)

Nov 18, 2016

Student hits deer, reminding drivers to be cautious on the road

(Story)

Nov 15, 2016

The new app Hype replaces Vine

(Story)

Nov 08, 2016

AP classes increase workload, help students grow

(Story/Media)