Freshmen struggle through first semester
Hang on for a minute...we're trying to find some more stories you might like.
Teachers and administrators have been analyzing the grades and attendance of students for first semester.
The results are unsatisfactory.
Although the numbers were rough for every grade, the Freshman Class had the worst statistics.
Mr. Brian Wiskur, principal, said the grades were a result of students not showing up to classes and not having the right attitude.
"Ninth-graders had 131 courses they failed by WF's (Withdrawal Fails), meaning they failed because they were over nine absences and didn't get a C+ on the exam," Wiskur said. "They also failed 203 courses because of lack of effort and their two marking periods' grades and exam averaged below 60 percent."
Sophomores had 41 WF's and 126 failed courses, juniors had 40 WF's and 86 failed courses, and seniors had 31 WF's and 46 failed courses.
"This group of freshmen seems to lack work ethic," Wiskur said. "They just don't understand the high school concept of 'passing classes means credits.'"
"
This group of freshmen seems to lack work ethic."
— Mr. Brian Wiskur, principal
The number of freshmen who exceeded nine absences for the first semester has also increased from previous years.
Freshmen in 2016 had 51 students go over nine absences. This number decreased to 41 students for the 2017 freshmen, only to shoot back up to a drastic 61 freshmen for 2018.
Wiskur said faculty will continue to talk with freshmen in order to help them get through their first year of high school.
"We will continue to meet with them and emphasize how important it is to pass all courses," Wiskur said. "They will get their act together soon. This group just seems to be taking longer than most."
Freshman Mackenzie Simms understands the importance of her first year in high school.
"To be successful in high school, I've had to stay motivated and think of the end result," Simms said. "I think that it is really important to stay focused and to realize that what happens in high school reflects on the rest of your life, whether it's your grades, friendships, or extracurricular activities.
"I feel pretty happy with my first semester grades. Freshman year is a very important year. It builds your GPA and sets the bar for the rest of your high school career. I am happy with the work I've put in to earn my grades last semester," Simms said.
"
The transition from middle school to high school is a huge adjustment for students."
— Mackenzie Simms, freshman
Simms said she thinks her classmates are having trouble adjusting to the switch to high school from middle school.
"The transition from middle school to high school is a huge adjustment for students," Simms said. "It is hard (for) students to keep up with a heavy workload and still be involved outside of school. I think the expectations of the middle school could (be) raised in order to improve students' freshman year."
Wiskur encourages students who are struggling to take advantage of the extra help and programs offered by faculty.
"We have plenty of things in place to help them (the Freshman Class) be successful," Wiskur said. "The most beneficial in my opinion is the 'Lunch and Study' program in the career center. During all three lunches students can come in and get tutoring from teachers. We've had over 700 students visit us just since October."
Mr. Michael Simms, physical science teacher, said he notices that his students lack drive.
"There does seem to be more students in this class that do not see the seriousness of their actions or lack of actions in the classroom," Mr. Simms said. "They certainly need to mature and realize the consequences for their lack of ambition in the classroom."
Mr. Simms hopes to see the freshmen improve their work ethic in the second semester.
"Usually freshmen come around in the second semester, even the ones that do poorly in the first semester," Mr. Simms said. "Some will show vast improvement once they realize they are going to be re-classified as a freshman still.
"I do try to be patient with the students and try to get them to see their goals and help them to understand the need for passing their classes. However, even with all of this data — (and) 20-something years of seeing kids make similar mistakes — sometimes they just have to experience it to believe it, unfortunately."
About the Contributor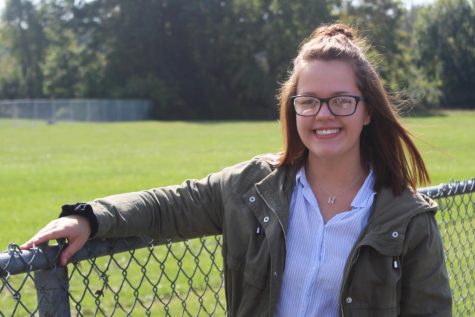 Jenna Robinson, Editor in Chief

Birthday: Oct. 26, 2000
Hobbies/Interest: Playing electric, acoustic, and bass guitar, as well as ukulele. I also enjoy drawing, reading, writing,...