Alpin lives with autoimmune disease, embraces friendship
Hang on for a minute...we're trying to find some more stories you might like.
"I was at the risk of dying," junior Maddie Alpin said.
In November 2017, Alpin thought she just ate something bad. Maybe it was food poisoning, or maybe it was a stomach virus.
No. The pain and symptoms only worsened with time.
Anemia, exhaustion, and chills became regularly occurring symptoms for Alpin.
Alpin's doctors originally thought her gallbladder was the issue. However, this idea was dismissed after an ultrasound proved her gallbladder looked normal.
After being hospitalized, receiving a colonoscopy and upper gastrointestinal endoscopy, and receiving two blood transfusions, Alpin was diagnosed with ulcerative colitis in February 2018.
Alpin is the first member of her family to suffer from an autoimmune disease.
Ulcerative colitis is an inflammatory bowel disease that causes long-lasting inflammation and ulcers in the digestive tract.
Alpin's treatment plan has been grueling but is necessary in order for her to live.
"The treatments are autoimmune medications," Alpin said, "so I am constantly at risk of getting very sick. As of right now, I will be taking them for the rest of my life. There  is no cure for ulcerative colitis."
Although Alpin's illness has become her new normal over the last year, she doesn't let it define her.
"Life hasn't been easy," Alpin said. "But I am still living it to the fullest."
Even while dealing with a debilitating illness, Alpin has been able to express her individuality in and outside of school.
With a vast curiosity, Alpin is constantly discovering new interests or hobbies, one of them being archery.
"I do archery in my spare time," Alpin said. "I don't compete, but it's a lot of fun and keeps me busy."
Alpin has a love for astronomy and space, but she actually wants to take a different path in her future and pursue a math degree in college.
"I want to go to college, probably at Ferris State," Alpin said. "(I want to) get a degree in mathematics and possibly become a high school math teacher or pursue a different career with it."
Alpin has a bright personality, a contagious laugh, a brilliant sense of humor, and an aura that can only be defined as kind.
Junior Cole Zemore met Alpin in middle school.
Zemore describes Alpin as independent and funny, and he admires her drive and charisma.
"She becomes good friends with almost every foreign exchange student every year, which is pretty unique," Zemore said.
This year Alpin was introduced to foreign exchange students Valerie Entenmann from Germany and Francisco Rivera-Carrera from Mexico.
Entenmann and Rivera-Carrera share a host family, so after Alpin instantly clicked with Entenmann in French class, she soon became friends with Rivera-Carrera as well.
Entenmann said Alpin was "immediately welcoming and nice" and didn't judge her.
Alpin has an interest in traveling, which was heightened due to her international friendships.
"I want to travel to places like England, Germany, Finland, and France," Alpin said. "I've always wanted to travel, but they have definitely given me more of a reason to travel."
Alpin credits many of her successes to the support she receives from her grandparents, Mr. and Mrs. Jon and Debbie Wheeler.
"(I am) proud (that) my granddaughter, Madison, is thoughtful, kind, loyal, and fun," Mrs. Wheeler said. "She always looks for the positive aspects in her life. We love that she is an enlightened young woman."
Mrs. Wheeler expects Alpin to have a bright and adventurous future.
"Her future will be a continuation of surrounding herself with those that share similar values and positive attitudes," Mrs. Wheeler said. "She loves learning about other countries and cultures, and she'll travel to explore the cultures and countries that interest her the most."
Alpin's intelligence was evident even in her adolescence.
"(Maddie has) always been a problem solver," Mrs. Wheeler said. "I see her continuing an education that involves math. As a toddler she loved reading. Children's books were not the only books she liked, she was (also) interested in the 'National Geographic' books. (With her) strong background in math and reading, along with her determination to achieve, we feel she'll find success in anything she pursues."
As Alpin grows older, her positive characteristics are only further defined.
Walking the halls of KHS, you'll rarely pass Alpin without receiving a friendly smile.
"
These are the things that define her today: loving, caring, and learning."
— Mr. Jon Wheeler
Alpin's grandfather said that her kindness has always been one of her defining traits.
"As her grandfather, I am most proud of the fact that since she was a toddler she showed how concerned and caring she was toward people and animals," Mr. Wheeler said. "These are the things that define her today: loving, caring, and learning. I feel (as though) anything she puts her mind to, she can and will succeed. With her ability to focus and her determination, she can do whatever she wants."
About the Contributors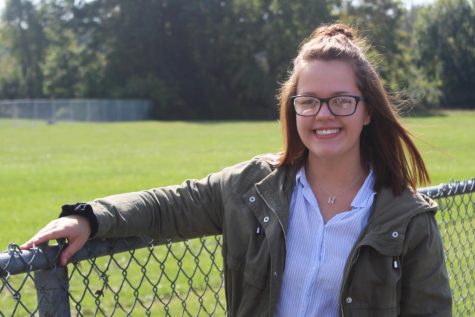 Jenna Robinson, Editor in Chief

Birthday: Oct. 26, 2000
Hobbies/Interest: Playing electric, acoustic, and bass guitar, as well as ukulele. I also enjoy drawing, reading, writing,...