Bishoff excels in school, sports
Hang on for a minute...we're trying to find some more stories you might like.
Studying, volunteering, and golfing make up an average day for senior Emma Bishoff.
Throughout high school, Bishoff has been an involved student.
Academically, Bishoff is the co-president of National Honor Society, a freshman mentor, and is the secretary of the Class of 2019. Bishoff was also a member of Student Council.
Athletically, Bishoff has golfed all four years of high school, participated in powerlifting for two years, and ran track for two years.
By being a leader throughout school, Bishoff has learned how to communicate and cooperate with many different types of people.
"As a leader of National Honor Society and captain of the golf team, as well as many other things, I have learned that you can't please everyone," Bishoff said. "You have to be willing to adapt to different situations and be accepting of new ideas."
Mr. Andy Nester was able to get to know Bishoff as she was on the golf team and a student in his AP U.S. Government and Politics class.
"Emma is concerned about her grades and future," Nester said. "She managed her classes, athletics, job, and other responsibilities by demonstrating a solid work ethic and good time management skills.
"I think her drive, personal interests, and pleasant personality will be an excellent fit for the challenges she will face next year."
Nester said he saw Bishoff grow and mature as an athlete and knows she will take her positive qualities with her to college.
"Emma was the glue to our team her senior year," Nester said. "She accepted any extra responsibilities I asked of her, including making the new members of our team feel welcome.
"As our captain, she coached and shared the skills she learned over the past two seasons to help our team overachieve. She did this naturally. In no way did it seem forced or disingenuous.
"I see Emma as being that kind of person in general.  She will do the little things (or) details that most people are unaware of to make the group or organization better.  I admire that about her.  I don't see this quality in students as much anymore."
Bishoff's interests aren't limited to inside KHS.
Outside of school, Bishoff enjoys playing golf, watching sports, and cuddling with her dog.
"I love to play golf. I spend a lot of time with my dad playing golf," Bishoff said. "I also enjoy watching sports, especially Alabama football, while lying on the couch with my bulldog LuLu."
As a senior, high school is quickly coming to an end for Bishoff, but she feels ready to graduate.
"I am excited to start a next chapter in my life," Bishoff said. "I begin classes that will lead to my future career. I can become more independent and experience new things at college."
Bishoff's mom, Mrs. Laurie Bishoff, is proud of the person that her daughter has become.
"
I am proud of the empathy and care she shows towards mankind."
— Mrs. Laurie Bishoff
"I am proud of the empathy and care she shows toward mankind," Mrs. Bishoff said. "Her ability to be compassionate and understanding is also something I am proud of in her.
"She's smart, funny, and can do anything she sets her mind to. She's willing to speak her mind, even when it's not the popular vote."
This fall, Bishoff plans to attend Kettering University to study business administration.
"I will be working for Ford Motor Company for my co-op with Kettering," Bishoff said. "I chose Kettering because they give me the opportunity to work three months then go to school three months, so I can gain more experience in my career field before graduating.
Throughout her time at KHS, Bishoff has been able to learn self-confidence from her teachers, mentors, and classmates.
"I learned to love myself here at KHS," Bishoff said. "I gained confidence from all of my teachers telling me how important and worthy I am. The students are a family, and I've never felt bad about myself around them."
Mrs. Bishoff hopes to see her daughter have a happy, healthy, and successful future.
"I hope in the future she achieves a sense of purpose and continues to value relationships with people," Mrs. Bishoff said. "I want her to avoid the mistakes she has witnessed in the past, and I hope she (can) also learn from her mistakes to be smarter and wiser.
"I want her to look back at her life and be proud, and most importantly, happy. Happy with life, happy with her relationships, happy in her career. She is the only one that can control that destiny."
About the Contributors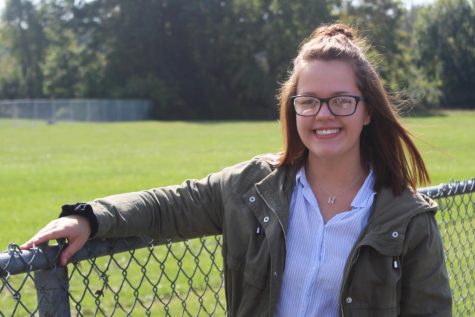 Jenna Robinson, Editor in Chief

Birthday: Oct. 26, 2000
Hobbies/Interest: Playing electric, acoustic, and bass guitar, as well as ukulele. I also enjoy drawing, reading, writing,...