Retirement offers opportunities for Puffer
Hang on for a minute...we're trying to find some more stories you might like.
A teacher's job demands more than just knowledge. It requires kindness, drive, practicality, enthusiasm, and dedication.
Mr. Darrick Puffer, journalism adviser and English teacher, embodies all of these characteristics.
With 30 1/2 years of  experience teaching in public education, Puffer is ready to say goodbye to the classroom and welcome his retirement at the end of the school year.
Puffer first began teaching when he was 22.
"I worked as a substitute teacher as I wrapped up college," Puffer said. "I also worked part-time for two years at Lansing Community College as a para-professional tutoring and reading textbooks that were recorded for blind students."
He began his full-time teaching career in 1989 and began working for Kearsley in 1991.
"
Being inside of Mr. Puffer's class was an honor. He always told us life lessons, funny tales, and advice about the future."
— Jay Harris, senior
Beginning his career as a Kearsley teacher, Puffer was kept on his toes.
"In the first five years of my career, I never taught the same class twice," Puffer said. "I had middle and high school classes, and I taught every grade level from seventh-grade to twelfth-grade. The classes were English and journalism, with one semester of art."
Eventually, Puffer became an American literature teacher for juniors and then sophomores. He taught American literature for the next 20 years. For the last three years, Puffer has also taught senior English.
Senior Jamarius Harris, a student in Puffer's English class, said he has enjoyed Puffer's mentorship.
"Being inside of Mr. Puffer's class was an honor," Harris said. "He always told us life lessons, funny tales, and advice about the future. He's impacted me by giving me life tips and advice."
Puffer also ran a broadcasting program for several years called K-NEWS.
Puffer's passion for writing was brought to life through the resurrection of The Eclipse, Kearsley's past student newspaper.
"In 1992, I formed an after-school club for newspaper and The Eclipse, which was the student newspaper at Kearsley in the past," Puffer said. "A year later, journalism became a class, and that class has been informing students, staff, and the community ever since then."
In the years to come, Puffer wants to see The Eclipse continue and excel.
"I am most proud of my journalism program, and if there is any kind of legacy that I might leave behind, I hope it's The Eclipse and the great reporting my students have accomplished throughout the years," Puffer said.
Senior Stephanie Lane has been in Puffer's journalism class for the last two years.
"He's made my writing do a 180," Lane said. "He has improved who I am as a writer, student, and overall as a person."
Puffer was also able to write and publish his own book called "I'm Not Your Angel."
The novel was inspired by his first year teaching and coaching girls cross country and seeing the lack of expectations placed on female students and athletes.
"I ended up writing a young adult novel the following summer with a plot that focused on a girl becoming confident and finding success by her own hard work," Puffer said. "That theme stuck with me through my career, especially with coaching girls cross country and track and field for so many years.
"I hope that all my students, and especially all of the student-athletes I have coached, leave a class I taught or a sport I coached with becoming more self-assured and finding value in themselves."
Activities were not exclusive to the classroom, as Puffer also involved himself in coaching and officiating sports.
"Sports have also been a huge part of my career," Puffer said. "I have coached girls and boys basketball for several years, but the majority of my career was focused on girls cross country and girls track and field. I coached cross country for 16 years and track and field for 25.
"I also officiate high school football, starting when I was 19 years old. Last fall, I officiated my 32nd year of football and plan to continue working high school football."
Puffer plans to expand his officiating into college football after his retirement.
"I recently got accepted into a collegiate football officials clinic and was able to work a Division I scrimmage at Eastern Michigan University during spring football," Puffer said.
Work won't end for Puffer as he hopes to continue working for a teacher's website.
"I currently am a part-time teacher-author for a teacher's website, and my plan is to work on that website full-time," Puffer said.
Puffer also hopes to dedicate more time to his wife, Mrs. Rae Puffer, and their fur baby, Brizzy.
"Once my wife retires in a few more years, we will be able to spend more time together — of course, with our dog, Brizzy — and be able to visit family and friends more often, and, hopefully, spend some time traveling."
Coworkers and students have shaped Puffer's years of teaching into memorable moments and friendships.
"What I will miss the most about teaching is working with the wonderful people I have been able to work with over the years, building friendships with many of them," Puffer said. "I also will miss getting to know the students and being able to joke around with them as they grow and become better people."
As Puffer finishes out his last year of teaching, the phrase we all know too well will always be remembered.
So, Puffer, take your own advice this time, and, "Whatever you do, do it safely, do it legally, and stay out of trouble."
About the Contributors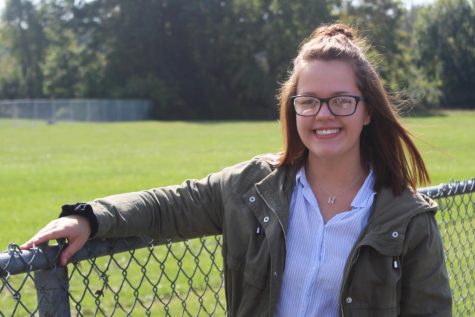 Jenna Robinson, Editor in Chief

Birthday: Oct. 26, 2000
Hobbies/Interest: Playing electric, acoustic, and bass guitar, as well as ukulele. I also enjoy drawing, reading, writing,...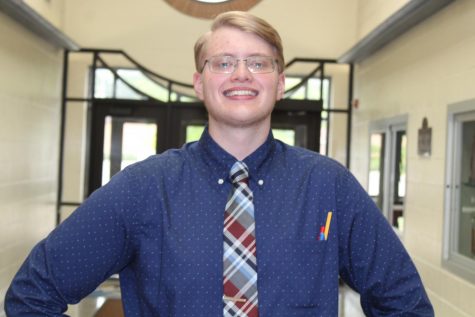 Connor Earegood, Editor in Chief
Class: Senior

Hobbies: I participate in quiz bowl, chess, robotics, Future Problem Solving, and many other "nerd sports."

Future Plans: I plan to...