Women's History Month: 'Notorious RBG' inspires through the decades
This is part two of a five-part series.
Ambition, courage, and strength are all embodied in U.S. Supreme Court Justice Ruth Bader Ginsburg and her continuous fight for women's rights.
Ginsburg was born on March 15, 1933. She exhibited intelligence at an early age as she entered Cornell University on a full scholarship and graduated first in her class with a bachelor's degree in government.
Ginsburg and her husband, Mr. Martin D. Ginsburg, then enrolled in Harvard Law School. Ginsburg was one of eight female students in a class of 500 students.
In 1956, Martin became ill with testicular cancer. Ginsburg had to continue her studies, help Martin keep up with his, and simultaneously take care of her sick husband and their young daughter.
Once Martin recovered, he graduated from Harvard Law School and earned a position at a New York law firm. Ginsburg transferred to Columbia Law School in order to stay with Martin as he started his new job.
Ginsburg graduated from Columbia Law School and began working with the the American Civil Liberties Union's Women's Rights Project.
Her participation with the project was influenced by her position as a law professor at Rutgers Law School and Columbia Law School, as well as her interest in gender discrimination cases.
President Jimmy Carter appointed Ginsburg to the U.S. Court of Appeals in 1980, and President Bill Clinton appointed her to the Supreme Court in 1993.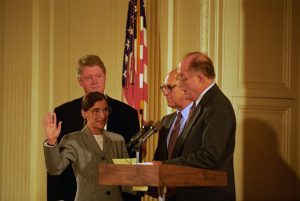 Despite having a seemingly reserved attitude, Ginsburg is able to sway a courtroom with her strong and deliberate words while speaking out against gender inequality.
Ms. Kari Shaw, English teacher and yearbook adviser, said she admires Ginsburg's drive and strength.
"She is a pioneer in women's rights," Shaw said. "Her work ethic is admirable. Her fight for women's rights has helped women come closer to equal pay for equal work, but there is still a long way to go. She is a role model for me because of her work ethic, thoughtful opinions, and determination to fight for equality."
As a successful Supreme Court justice and women's rights activist, Ginsburg has become widely known across the United States.
Ginsburg picked up a nickname, "Notorious RBG," after a New York University law student created a blog playing on rapper Biggie Smalls' Notorious B.I.G. nickname.
Ginsburg's role in pop culture grew as her character appeared in a skit on the comedy show "Saturday Night Live."

The movie "On the Basis of Sex" and the documentary "RBG" were created to tell the story of Ginsburg's life as a gifted student, judge, mother, wife, and as a notable leader in the fight against gender discrimination.
Senior Keegan Cummings said Ginsburg's legacy is evident through her legal work.
"I believe that Ginsburg has had her hands in a lot of necessary decisions," Cummings said. "Her history is incredible. She's helped women reach equality throughout her lifetime of devotion to her position. I also find her dedication to be incredibly impressive. Although she's had health issues, she's still dedicated to her job."
Ginsburg has suffered from a slew of health issues, including battling colon cancer in 1999, having surgery for pancreatic cancer in 2009, breaking bones in 2012 and 2013 after falling, and having a heart stent implanted in 2014.
After another fall in November 2018 that damaged more ribs, doctors found cancer in her lungs.
"
I respect her because she successfully persevered despite the numerous obstacles that were continuous throughout her life."
— Ms. Diane Hunt, psychology teacher
Ginsburg remains resilient despite her health struggles.
As the oldest-serving judge on the Supreme Court, Ginsburg knows that her health has to be a priority. She remains fit by working out with her personal trainer, Mr. Bryant Johnson.
At 86 years old, Ginsburg is an accomplished and unshakable judge and is still defying the odds and fighting gender discrimination as a liberal voice in court.
Ms. Diane Hunt, psychology teacher, said she is inspired by Ginsburg's persistence and dedication.
"I respect her because she successfully persevered despite the numerous obstacles that were continuous throughout her life," Hunt said. "It is so inspiring and motivating to see women living their best lives despite all the negativity against it. Failures and losses will happen, but giving up is a choice."
View Comments (1)
About the Contributor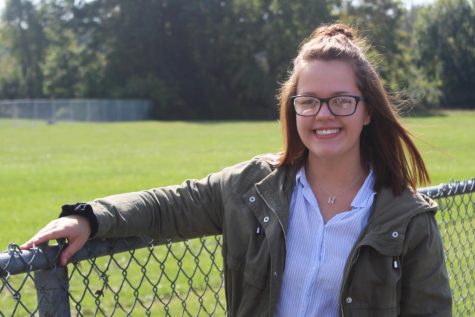 Jenna Robinson, Editor in Chief

Birthday: Oct. 26, 2000
Hobbies/Interest: Playing electric, acoustic, and bass guitar, as well as ukulele. I also enjoy drawing, reading, writing,...