It's a 'purr-fect' time to celebrate National Cat Day
Hang on for a minute...we're trying to find some more stories you might like.
We all know one or are one ourselves — a cat person.
Cat people are known for their clothes being covered in hair, their items constantly being pawed off of counters, having hundreds of pictures of their furry friends at hand, and their hearts always being full.
Cat lovers are encouraged to celebrate their beloved pets on National Cat Day, which falls on Monday, Oct. 29.
National Cat Day is celebrated not only as a way to honor the cats who are already loved in their forever homes, but also to encourage the adoption of cats who are still homeless.
With their unique personalities, attitudes, and cleverness, cats give their owners a new sense of companionship—and responsibility, of course.
Senior Chloe Vollmar was introduced to the world of pet ownership when she adopted her cat, named Kitty, from the Humane Society.
"I wanted a kitten at first, but fell in love with her as soon as I saw her," Vollmar said. "She sleeps with me every night and even gets excited when I come home. She is my best friend."
Cats are undeniably cute. From pictures and videos on social media, to cuddles on the couch in real life, cats bring joy to people around the world.
Junior Jolie Timm loves her cat, as well as the energy and excitement brought into her life by her furry friend.
"I have one cat, her name is Pixel," Timm said. "She just turned 1 on Oct. 4. She's super playful, and her favorite toy is a pink string from one of my hoodies. She isn't very cuddly, but she likes being picked up and carried around."
Timm brought Pixel home when she was a kitten and has loved watching her change as she gets older.
"We brought her home when she was just under 3 months old, and I've loved being able to watch her grow," Timm said. "I love watching her play and chirp at the animals she sees outside through the window. I also love how excited she gets when I wake up in the morning or when I get home from school."
Although National Cat Day encourages people to adopt a kitten, please only adopt a cat if you are willing to take on the responsibility and provide them with a safe and loving home.
So, cuddle with your cat, give him some cat nip or a new toy, repeatedly cry "awwww" at the pictures shared of other cat lovers' furry friends, and have a "purr-fect" National Cat Day.
About the Contributors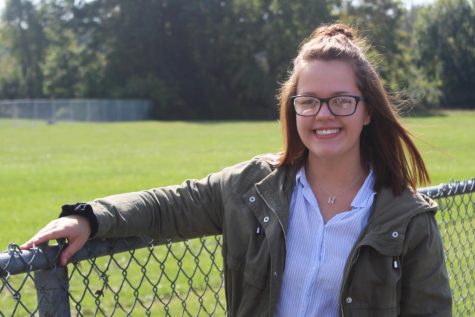 Jenna Robinson, Editor in Chief

Birthday: Oct. 26, 2000
Hobbies/Interest: Playing electric, acoustic, and bass guitar, as well as ukulele. I also enjoy drawing, reading, writing,...