An open letter to my dog: College won't break our bond
Hang on for a minute...we're trying to find some more stories you might like.
Hi Puppy,
That's what you love to be called. Even though your face is turning gray, you'll always be my sweet puppy.
Most people call you Hendrix, although you respond best to "do you want to go for a walk?"
You are my best friend, Hen. My love for you is immeasurable.
You have a bed in my room because you just have to be by my side. And even though Mom and Dad's bed is cozier, you still choose to sleep close to me.
You are so smart and stubborn. Mom says you have my attitude.
You are also very spoiled. Your legs and hips were sore after a long walk and I had to carry you up two sets of stairs. I would carry you whenever you needed it, though.
I am leaving for college this fall. And while I am excited, I am heartbroken to be leaving you.
Of course I will visit often. I will miss you too much not to visit.
It is just hard to imagine having to fall asleep in a dorm room each night without you by my side.
It is hard to imagine having a bad day and not being able to feel you nudge your nose under my arm for a hug.
I think the hardest part is that I am missing time with you. Time that I will never get back. And it breaks my heart.
But I won't be too far away. I will come home as much as I can to see you.
You will always by my good boy.
Mom will take you for pretty walks and give you your absolute favorite snack — cheese.
It makes me sad when I think about leaving. Even when I leave for a weeklong vacation you become sad.
Seeing your tail wag and your eyes light up when I come home brings me such joy.
You love me no matter what. When my hair is a mess, when I am sick, when I'm in a bad mood, when I am sweaty after a workout, you love me unconditionally. And I love you right back.
Don't worry, I won't experience all of my college life without you. I will bring you up for walks around the campus so you can enjoy all of the new sights and smells — and the people calling you cute.
So it's not goodbye, it's just a see you later.
Love,
Jenna
About the Contributors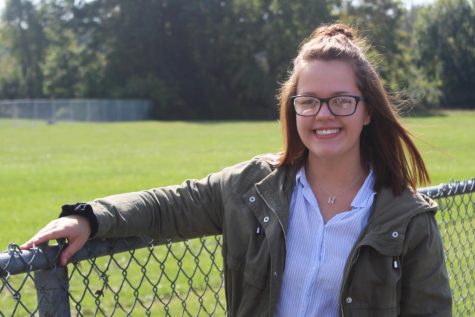 Jenna Robinson, Editor in Chief

Birthday: Oct. 26, 2000
Hobbies/Interest: Playing electric, acoustic, and bass guitar, as well as ukulele. I also enjoy drawing, reading, writing,...