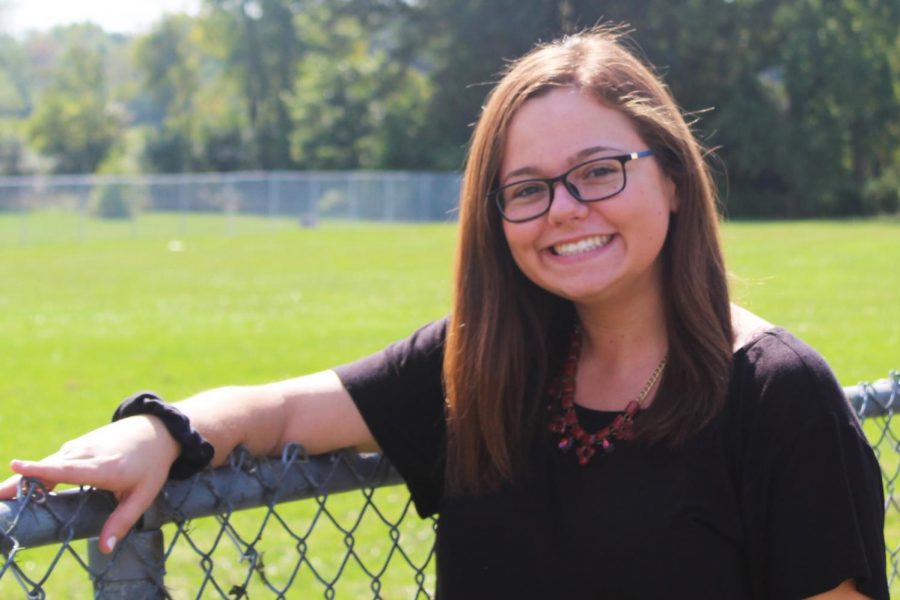 Birthday: 
Jan. 9, 2001


Hobbies/Interests: Student Council Vice President, NHS member, freshman mentor, and the student representative on the Board of Education.


Favorite Quote: "The art of being happy lies in the power of extracting happiness from common things." - Henry Ward Beecher


Favorite Book: "The Child Called "It"" by Dave Pelzer


Plans After High School: Attending Saginaw Valley State University to pursue a degree in elementary education.


Stephanie Lane, Sports Editor
Mar 02, 2020

Girls bowling will compete in state final

(Media)

Feb 10, 2020

Boys bowling wins matches; Hammond takes bronze

(Media)

Jan 23, 2020

Girls bowling downs Brandon, wins tournament

(Media)

Jan 07, 2020

Girls bowling tramples Clio

(Media)

Jan 07, 2020

Boys bowling rolls over winter break

(Media)

Dec 20, 2019

Boys bowling blasts the Martians

(Media)

Dec 17, 2019

Boys bowling buzzes in weekend tournaments

(Media)

May 23, 2019

Emerick voted Blueberry Ambassador Teacher of the Year

(Story)

May 17, 2019

The Eclipse seniors say goodbye

(Story)

May 17, 2019

Students experience mock interviews to prepare for work

(Media)

May 10, 2019

Baseball clawed by Tigers

(Story)

May 08, 2019

Thank you to my teachers for supporting me

(Story)

May 06, 2019

Baseball wins one in last three games

(Story)

Apr 29, 2019

Class of 2019 celebrates prom

(Story)

Apr 26, 2019

Baseball stomps out Trojans

(Story/Media)

Apr 24, 2019

May, Emmendorfer win prizes from The Eclipse March Madness Challenge

(Media)

Apr 24, 2019

Baseball strikes out against Clio

(Story/Media)

Apr 24, 2019

I shouldn't be judged for wanting to become a teacher

(Story)

Apr 24, 2019

Prescott, Langworthy honored for SAT scores

(Story)

Apr 22, 2019

Baseball ties two in last four games

(Story/Media)

Apr 15, 2019

'ABC's of School Safety' offers insight for elementary students

(Story)

Apr 10, 2019

Baseball, softball take on Blue Devils in season openers

(Story)

Apr 01, 2019

No more "ruff" days: Seniors allowed to bring dogs to school

(Story/Media)

Mar 22, 2019

Hornets spring into sports

(Story)

Mar 06, 2019

Girls bowling knocks down another state championship

(Story/Media)

Mar 06, 2019

Boys bowlers finish among top eight in the state

(Media)

Mar 04, 2019

Simms' leadership, character recognized by others

(Story)

Mar 01, 2019

Girls bowling rolls its way to sixth regional title

(Story)

Mar 01, 2019

Blond continues three-peat; two underclassmen qualify for state final

(Story/Media)

Mar 01, 2019

Boys bowling wins regional, Langworthy qualifies for state final

(Media)

Feb 20, 2019

Canine rescue visits Fisher's classroom

(Story/Media)

Feb 20, 2019

Sturk wins league singles tournament, girls bowling wins two tournaments

(Story)

Feb 13, 2019

Girls bowling rolls through a decade-long win streak

(Story)

Feb 11, 2019

Girls bowling stings Fenton, Blond wins singles tournament

(Story)

Feb 06, 2019

Girls bowling continues undefeated season

(Story)

Jan 25, 2019

Girls bowling defeats two League opponents, places third at tournament

(Story/Media)

Jan 25, 2019

Teachers deserve respect from students

(Story)

Jan 14, 2019

Girls bowling is unstoppable

(Story)

Jan 09, 2019

Momentum doesn't stop for girls bowling

(Story)

Jan 09, 2019

Boys bowling conquers weekend matches, takes third in tournament

(Media)

Jan 04, 2019

Winning streak continues for girls bowling

(Story/Media)

Jan 04, 2019

Hornets dominate in a mixed doubles tournament

(Story)

Jan 04, 2019

Boys bowling squeaks past Creek

(Media)

Dec 21, 2018

Gronauer, Bishoff glue matchsticks to build bridge

(Story/Media)

Dec 21, 2018

Boys bowling tastes first league defeat

(Media)

Dec 21, 2018

Girls bowling sweeps Owosso

(Story/Media)

Dec 17, 2018

Girls bowling came up short in two tournaments

(Story)

Dec 14, 2018

Roof, Blond lead girls bowling team past the Raiders

(Media)

Dec 14, 2018

Langworthy rolls a 279 to edge past Flushing in boys bowling

(Media)

Dec 10, 2018

Girls bowling continues winning streak

(Story/Media)

Dec 10, 2018

Boys bowling rolls over Holly

(Media)

Dec 07, 2018

Pebbles cereal rocks for breakfast

(Media)

Dec 05, 2018

Boys bowling kicks off season with two victories, wins tournament

(Media)

Dec 05, 2018

Girls bowling wins two league matches, Baker tournament

(Story)

Dec 03, 2018

Roof commits to bowl at Valparaiso

(Story)

Nov 30, 2018

Hornets kick off winter sports

(Media)

Nov 19, 2018

Easton will become a Cougar at Cleary University

(Story)

Nov 15, 2018

Dressing in style is easy this fall

(Story/Media)

Oct 30, 2018

Hunt's classes make Halloween cards for fourth-graders

(Story)

Oct 23, 2018

Community Closet offers resources for students

(Story/Media)

Oct 23, 2018

I don't feel safe being alone in public

(Story)

Oct 05, 2018

Underclassmen prove they have school spirit

(Story)

Oct 05, 2018

Students look forward to homecoming festivities

(Story)

Oct 05, 2018

Seniors are enthusiastic for their last Homecoming

(Story)

Oct 05, 2018

Student Council works hard to ensure successful Homecoming

(Story)

Oct 04, 2018

Seniors show style on Throwback Thursday

(Story/Media)

Oct 02, 2018

Harris crowned powder puff king from five-man court

(Story)

Sep 27, 2018

Tennis falls to Flushing, Clio

(Story/Media)

Jun 12, 2018

Woodworkers teach students how to make bird houses

(Story/Media)

Jun 07, 2018

The Eclipse names executive editors

(Story/Media)

Jun 05, 2018

Arizona calls Bailee Stevens west

(Story)

May 24, 2018

Clarambeau, Lane lead tennis team at league meet

(Story)

May 15, 2018

Baseball swept by Creek, Fenton

(Story/Media)

May 14, 2018

Ramey wins shot put at Davison Twilight Classic

(Media)

May 08, 2018

Students prepare for upcoming AP tests

(Story/Media)

May 04, 2018

Baseball falls to Powers, Linden

(Story/Media)

May 02, 2018

Tennis glides past Blackhawks

(Story)

May 02, 2018

Five juniors are eager to begin their final year

(Story/Media)

May 01, 2018

Eagles soar past the baseball team

(Story)

Apr 30, 2018

Baseball drops three games, wins one

(Story)

Apr 25, 2018

Baseball sweeps Brown City

(Story)

Apr 24, 2018

Five tennis players earn medals

(Media)

Apr 16, 2018

Hawes rolls her way to Mount St. Mary's

(Story)

Apr 13, 2018

Mustangs trot past baseball team

(Story/Media)

Mar 27, 2018

Baseball opens the season splitting games with the Cavs

(Story/Media)

Mar 26, 2018

Women's History Month: Michelle Obama inspires others to be healthy, positive

(Story)

Mar 23, 2018

Gebhardt will bowl with Adrian

(Story)

Mar 23, 2018

Baseball looks forward to a good season

(Story)

Mar 21, 2018

March is Reading Month: Realistic fiction adds a twist to real-life events

(Story/Media)

Mar 20, 2018

Students, staff focus on spreading positivity, rather than hate

(Story/Media)

Mar 13, 2018

Kearsley will participate in national school walkout

(Story)

Mar 09, 2018

Spring sports bloom into action

(Story/Media)

Mar 06, 2018

Boys bowling finishes in top eight at state final

(Story)

Mar 01, 2018

Boys basketball uses strong second half to beat the Bulldogs

(Story)

Feb 27, 2018

Boys bowling places third, earns ticket to state final

(Story)

Feb 23, 2018

Seniors win powdertuff

(Story/Media)

Feb 23, 2018

Easton prepares to serve in powdertuff

(Story/Media)

Feb 23, 2018

Dustin goes hard in the frosh-juniors match

(Story/Media)

Feb 16, 2018

Boys bowling wins final match, claiming the league title outright

(Story/Media)

Feb 14, 2018

Boys bowling ensures a piece of the league trophy

(Story/Media)

Feb 13, 2018

Girls bowling picks up two wins

(Media)

Feb 13, 2018

Passion drives Elise Pariseau to succeed in school and out

(Story/Media)

Feb 07, 2018

Eagles soar above boys basketball

(Story)

Feb 06, 2018

Boys bowling is victorious against the Eagles

(Story/Media)

Feb 01, 2018

Five juniors believe Advanced Placement classes are beneficial

(Story/Media)

Jan 22, 2018

Boys bowling defeats Owosso, Fenton

(Story/Media)

Jan 22, 2018

Staying true to yourself is what matters most

(Story)

Jan 19, 2018

Reid leads the boys bowling team to victory

(Story/Media)

Jan 15, 2018

Boys bowling wins first tournament of the season

(Story)

Jan 15, 2018

Boys bowling outscores Raiders, moves into top league spot

(Story)

Jan 10, 2018

Pinterest stimulates students, staff to be creative

(Story/Media)

Jan 08, 2018

Varner leads boys bowling with 289 to lasso the Mustangs

(Story)

Jan 03, 2018

Seniors Brendan White, friend give insight on writing a novel

(Media)

Jan 03, 2018

Tennis clinics will prepare players for the season

(Story)

Dec 20, 2017

An open letter to my mom: Thank you for pushing me

(Story)

Dec 18, 2017

Bowling finishes fifth, first at tournaments

(Media)

Dec 13, 2017

Boys bowling finishes third at Baker tournament

(Story/Media)

Dec 13, 2017

Boys bowling knocks down Fenton, Holly

(Story)

Dec 08, 2017

Being involved makes school more enjoyable

(Story/Media)

Dec 06, 2017

Boys bowling takes down the Trojans

(Story/Media)

Dec 06, 2017

Consider giving a homemade Christmas gift this year

(Story/Media)

Dec 06, 2017

Girls bowling defeats Owosso

(Media)

Dec 04, 2017

Swartz Creek edges out boys bowling in season opener

(Story)

Dec 04, 2017

Girls bowling opens season with league victory

(Media)

Nov 29, 2017

Boys bowling ready to defend league, regional titles

(Story/Media)

Nov 10, 2017

Upperclassmen share their experience to help freshmen

(Story/Media)

Nov 10, 2017

Bowling team holds tryouts next week

(Story)

Oct 30, 2017

Chemistry students make slime in the spirit of Halloween

(Story)