Roof commits to bowl at Valparaiso
Hang on for a minute...we're trying to find some more stories you might like.
For senior Alexis Roof, the sky is the limit when it comes to her bowling career.
Roof signed a National Letter of Intent on Tuesday, Nov. 20, to bowl at Valparaiso University.
Traveling to Indiana, she will join the Crusader's National Collegiate Athletic Association Division I level women's bowling team.
Alexis' motivation roots from within, as she pushes herself to step up to the next level.
"Just knowing how many opportunities that are out there for me make me become a better bowler," Alexis said.
Joining a Division I level team can be stressful, but for Alexis this isn't the case.
"It's an indescribable feeling," Alexis said. "You feel like a weight has been lifted, but at the same time there is pressure bowling at the next level."
Starting at the age of 3, bowling became an important role in Alexis' life.
Her father, Mr. Jon Roof, was hesitant to the idea of her bowling at first.
After seeing her ability, her mother Ms. Stephanie Roof and he began encouraging Alexis.
"At first I really didn't want my kids (alumna Ben Roof and Alexis) to bowl because I wanted them to experience other sports and do other things,"  Mr. Roof said. "But looking back at it now, I couldn't be more proud because of what she has accomplished."
Throughout Roof's bowling career, one teammate that has made an everlasting impact on her is junior Imari Blond.
"I've known her for a majority of my bowling career," Alexis said. "I'm glad to call her one of my best friends.
Coach Rob Ploof has also influenced Alexis' life.
"He (Ploof) has always saw something in me that I haven't and has pushed me to the best of my ability," Alexis said.
Ploof agrees that he has always saw potential in Roof and is confident that she will succeed in her future at Valparaiso.
"She has the potential to be one of the very best girl bowlers ever at Kearsley, and the scholarship from Valparaiso is proof," Ploof said.
Ploof started coaching Alexis her freshman year and has been able to watch her grow throughout her bowling career.
"I have known Alexis since she was born, and I knew she was going to be very good because her parents have always been very good bowlers," Ploof said.
He has held Alexis to high standards, as he knows she will rise to the challenge.
"The standards have always been high for her since was in middle school," Ploof said. "She wants to win and wants to be successful so she also sets the standards high for herself. I am very proud of her, but she still has work to do."
Mr. Paul Gaudard, assistant superintendent and former athletics director, is not surprised by Roof's success.
"She is an extremely determined young lady and sets lofty goals for herself," Gaudard said. "Her bowling talent combined with her success as a student make her attractive for many colleges and universities. I look forward to following Alexis' career at the next level."
Alexis' boyfriend, senior Jamarius Harris, is astonished by her drive and dedication and is proud of her accomplishments.
"I think her hard work has definitely paid off," Harris said. "The accomplishments Alexis has achieved has led her to one of the best college bowling programs around. I'm definitely proud of her."

About the Writer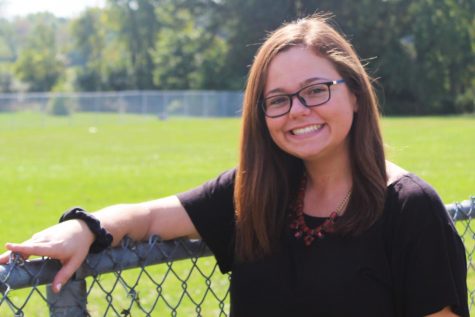 Stephanie Lane, Sports Editor
Birthday: Jan. 9, 2001

Hobbies/Interests: Student Council Vice President, NHS member, freshman mentor, and the student representative on the Board...