Simms' leadership, character recognized by others
Hang on for a minute...we're trying to find some more stories you might like.
Senior Mallory Simms has a kind heart and nature enabling her to help others without being directed to do so.
Simms is known for her genuine personality. Her kindness radiates off of her as she walks through the hallways at KHS and in other activities she pursues.
She can notice a student who is obviously struggling and is willing to help them with nothing in return.
This year, Simms was nominated by staff to be put on a ballot to represent KHS for the Daughters of the American Revolution scholarship.
The DAR Foundation was originally founded in 1890 and is known to be a a non-profit organization, promoting not only patriotism but also working to secure a better future for education.
The scholarship serves as an initiative and reward for good citizens who are making a difference within their communities.
"
The best part about having her as my sister is her unconditional support for anything I do."
— Mackenzie Simms, freshman
Other nominees were seniors Jenna Robinson and Claudia Moore.
The three names were put on a ballot and students voted on whom they wanted to represent the school. Simms was the winner.
At the competition, she won third place and was given $100 for her efforts throughout her school district.
Simms was surprised she was picked and feels proud to represent KHS.
"I was very surprised and honored to receive this award," Simms said. "It is humbling that others recognized me for being a good person."
After being recognized for her endeavors, Simms feels that her hard work to make a difference is paying off.
"I try to treat everyone equally with kindness," Simms said. "Being recognized for this gives me a sense of pride in knowing I am making a difference and making an impact on those around me."
Senior Brooklynn Smith has known Simms since elementary school and said Simms is known for her benevolence.
"I don't think I have seen her be anything but kind to other people," Smith said.
Her work does not go unnoticed, as staff members also value Simms as a top-notch student.
Mrs. Caitlin Manson, Spanish teacher, has taught Simms for four years and views her as an asset to her classroom.
"Mallory is one of the hardest working, conscientious students I have," Manson said. "She is very detail-oriented, which I love, and always turns in excellent work."
Mrs. Courtney Cox, English and science teacher, sees Simms as a leader in the classroom and thinks she guides the way for other students.
"Students look up to Mallory and follow her lead," Cox said. "It's been a joy to get to know her and watch her leadership skills flourish."
While working diligently in the classroom to be a strong student, her efforts do not go unnoticed.
"Mallory is focused and driven," Cox said. "She always turns in her best work and she challenges herself with every project."
Mr. Paul Adas, English teacher, was pleased to see Simms as a candidate for the DAR scholarship.
"Mallory is an excellent candidate for the DAR scholarship," Adas said. "She possesses the qualities of dependability, service, and leadership."
While Simms excels in her citizenship, she strives in athletics and extracurricular activities.
She has been dancing for 14 years and has craved success from the beginning, earning the captain position on the dance team, K-Motion, as a freshman.
"Being captain of K-Motion not only taught me to be confident in my dancing abilities," Simms said, "but also my leadership. Overall, this opportunity the last four years has definitely strengthened who I am today."
Not only has she been a part of K-Motion, Simms also is a part of the tennis team.
She also serves as secretary for the National Honor Society.
While balancing both athletics and academics, Simms makes it appear easy to succeed.
Simms' younger sister, freshman Mackenzie Simms, admires Mallory and is grateful to be her sister.
"I look up to her (Mallory) as my sister and my teammate. I can always rely on her for anything," Mackenzie said. "The best part about having her as my sister is her unconditional support for anything I do."

About the Writer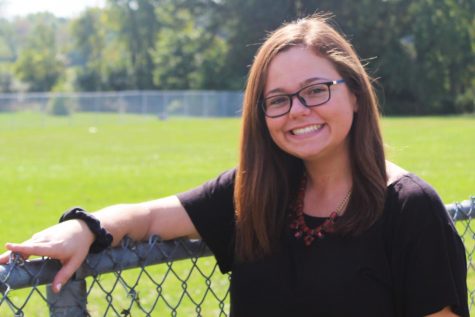 Stephanie Lane, Sports Editor
Birthday: Jan. 9, 2001

Hobbies/Interests: Student Council Vice President, NHS member, freshman mentor, and the student representative on the Board...