Thank you to my teachers for supporting me
Hang on for a minute...we're trying to find some more stories you might like.
High school hasn't necessarily been easy.
But one of the best decisions I have ever made is choosing the classes I did, as they gave me some of the best teachers I could have ever asked for.
Journalism was one of the classes to do so.
At first, I figured journalism would be a blow-off class, but I was entirely wrong.
Not only did my writing do a 180 into the right direction, but I also met one of the greatest teachers throughout my academic career, Mr. Darrick Puffer.
Puffer has been my journalism teacher the past two years, as well as my teacher for AP Literature and Composition my senior year.
Yes, there has been times AP Literature has made me want to give up, even sometimes jab my eyes out like Oedipus, but boy did it introduce me to books I would have never read on my own.
It also allowed me to have one of the greatest teachers for two hours of my school day.
Puffer, you have made such an impact on how I approach reading and writing and have helped me with my writing skills tremendously.
Your sarcasm and tough love was something that I had to adjust to, but I now realize I wouldn't want our relationship any other way.
I appreciate your humor immensely.
When I first joined The Eclipse and you would edit my stories, you left your comments in all caps. I read it as if you were screaming at me, but I now realize you were trying to help me.
Another thank you goes to Mr. Paul Adas, my AP Language and Composition teacher.
Your class may have brought me a crazy amount of anxiety, but you also made me smile every day, which made it worth it.
Choosing what I wanted to do after high school was difficult for me.
My heart has always been in becoming a teacher, but some teachers surrounding me tried to convince me that I was making a mistake.
To my Spanish teacher, Mrs. Caitlin Manson, you are the one who saved me from falling to the pressure of choosing a major that pleased others.
You not only pushed me to follow my passion of teaching, you also sat down with me and helped me realize what university was the best fit for me.
Manson, you have become someone I look up to wholeheartedly, and I have the utmost respect for you.
You are such a strong woman, and I believe you are truly making a difference with your students — especially me.
I am thankful I was able to have you as a teacher the last three years of high school because who else would have calmed me down when I was in a feisty mood?
I do, however, apologize for not loving "Gran Hotel" as much as you did, and for always trying to convince you to not play it.
FYI, "El Internado" will always be better.
Mr. Chris Torok, my trigonometry and pre-calculus teacher, has extremely frightened me but left an everlasting impact.
The first day of your class, Torok, you gave us the speech about entering the Mackinac Bridge, and that we either needed to hop on the car and take the challenge or drop your class.
Once the bell rang at the end of the day, I rushed to my locker, frightened by what you said since math has never been my strong suit.
You sparked a light in me. You made me want to study harder for math. You also taught me that looking back at my notes improves my quiz scores.
The lesson you taught me of crossing out the words "quiz" or "test" helped me.
And thank you to Ms. Diane Hunt for teaching me to love myself and that I am the prize. 
Although you intimidated me at the start of the year, I quickly learned to love your motivational speeches and reminders about life.
You encourage me on a daily basis and remind me of my self-worth, something Mrs. Amy Graham has also done the last two years.
Graham, I love running into you in the hallway and catching up. You always boost my confidence in tennis and life overall.
Thank you to Mr. Robert Markwardt for giving me a fist bump everyday in the hallway, for always making me laugh when I am having a bad day, and, overall, for being such a good criminology and world history teacher.
And thank you to Mr. Andy Nester and Mr. Mike Whalen.
Nester, I always think "feet on the floor, get out the door" when I am dreading going to school or simply getting out of bed.
And to Whalen, I appreciate your patience with me in AP Economics and am thankful for your quirky personality that always makes me laugh.
Mr. Paul Gaudard, assistant superintendent, thank you for being such a good athletics director the first three years of high school and for always coming to support our team.
Mr. Eric Doyle, you are appreciated as well. I enjoy our aggressive, yet humorous, relationship we have built the last year.
Lastly to some of my favorite middle school teachers, Mrs. Sherise Timmons, Mrs. Shelly Clayton, Mrs. Brenda Duplanty, Mrs. Sue Pratt, Mrs. LeAnn Wartella, and, most importantly, Ms. Courtney Emerick — you all shaped me into that strong student I am today.
Overall, thank you to every teacher that has made an everlasting impact on me.
I will forever be a Hornet.

About the Writer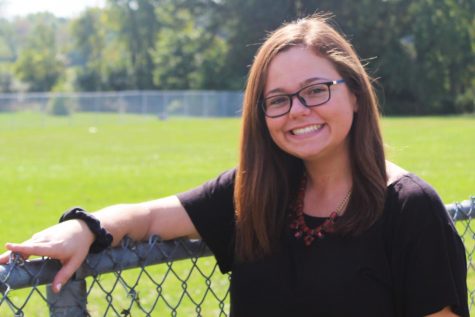 Stephanie Lane, Sports Editor
Birthday: Jan. 9, 2001

Hobbies/Interests: Student Council Vice President, NHS member, freshman mentor, and the student representative on the Board...