Girls bowling knocks down another state championship
Senior Alexis Roof finishes high school with four state titles
Hang on for a minute...we're trying to find some more stories you might like.
The girls bowling team completed its "Blitz for Six" mission, winning a state title — its sixth in a row, and seventh in the last eight years.
The Hornets ended their impressive season undefeated in the Metro League, won their regional title, and now, won the MHSAA Division 2 state title once again on Friday, March 1.
Senior Alexis Roof, a four-year varsity bowler, completed high school with a state title each year.
Roof feels that her final year bowling in high school ended in the best way possible.
"It felt amazing," Roof said. "This one was the best compared to the other three because it was an amazing closure to my senior year."
Mr. Rob Ploof has coached the girls team for 14 years and was pleased with his team's performance.
"It is an amazing feeling knowing that the girls all achieved a goal together," Ploof said. "Winning one state title is very difficult. Winning a total of seven and six in a row is unheard of."
Ploof noted that he is proud of his team's achievement.
"
Winning one state title is very difficult. Winning a total of seven and six in a row is unheard of."
— Coach Rob Ploof, girls bowling
"It is very exciting for everyone — the kids, parents, school, community — and I'm very proud to be a part of it," Ploof said.
After advancing through match play, the No. 1 seeded Hornets took on three-time state champion Tecumseh, who was the No. 2 seed.
Approaching each match with the drive to win, Ploof knew Tecumseh also wanted the title.
"Tecumseh is a very good team and they were ready for us," Ploof said. "I told people before regionals that Tecumseh was good and they would be a team we would have to beat if we wanted to win."
Kearsley was strong during Bakers, but the Indians kept pace with the Hornets. Kearsley bowled games of 182 and 173 to Tecumseh's 185 and 168, which sent Kearsley into the regular games with only a 2-pin lead.
The Hornets bowled a 997 for individual totals, separating themselves from Tecumseh, who threw an 886.
Kearsley ended the match with a 1,352-1,239 victory.
Junior Imari Blond, who led the final match rolling a 223, felt pressure as the anchor of the team.
"Since I'm anchor, I feel like I have to be the one everyone can lean on," Blond said.
Junior Samantha Timm, who bowled a 221 in the final, said Ploof's speech sparked the team's focus again.
"During the break between the fifth and six frame, Rob gave us a pep talk," Timm said. "After that, we knew it was time to take care of business."
Sophomore Allison Eible rolled 205 in her first year on varsity and was nervous during the final.
"Yes, I felt pressured," Eible said. "But having my team there really helped me."
Roof shot a 168 during the final, while a 180 was split among sophomores Megan Timm, Allison Robbins, and Emilea Sturk.
In the singles portion of the state final, which was Saturday, March 2, the Hornets had three bowlers compete: Blond, Eible, and Sturk.
After qualifying as the No. 1 seed, Blond won her match in the opening round 415-383 but then fell to Escanaba's Lindsey Juhl 385-369 in the quarterfinal.
Eible, seeded No. 14, lost to Coldwater's Noella Keplinger 339-335 in the first round.
Sturk placed 25th overall but didn't qualify for the playoffs.

About the Contributor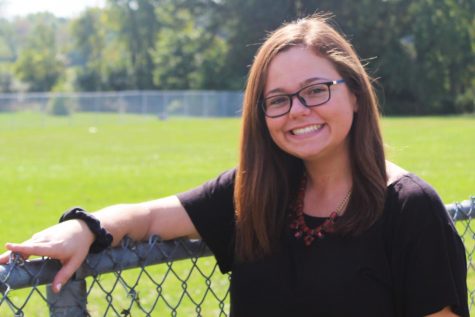 Stephanie Lane, Sports Editor
Birthday: Jan. 9, 2001

Hobbies/Interests: Student Council Vice President, NHS member, freshman mentor, and the student representative on the Board...