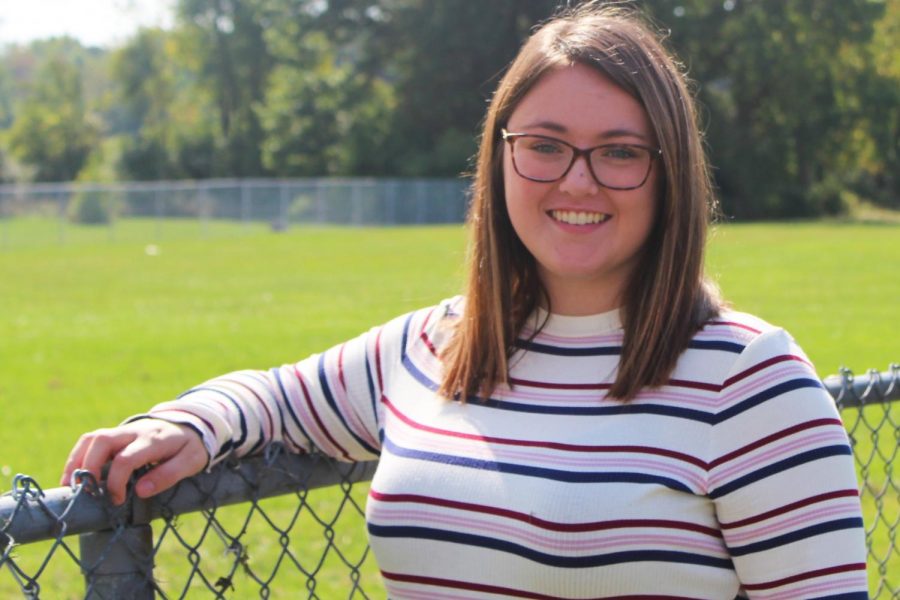 Birthday: Aug. 2, 2001


Hobbies/Interests: NHS, drama club, Freshman Mentors.


Favorite Quote: "Find out who you are and do it on purpose." - Dolly Parton


Favorite Book: "The Hunger Games" by Suzanne Collins


Plans After High School: Attend a college to get a degree in film and animation or secondary education.


Autumn Prescott, Special Projects Editor
Oct 07, 2019

Classes compete for powder puff bragging rights

(Media)

May 23, 2019

Bouchard sisters explore fighting fires

(Media)

May 17, 2019

The Eclipse seniors say goodbye

(Story)

May 17, 2019

Parker bids farewell with the Class of 2019

(Story/Media)

May 15, 2019

Baseball drops four games

(Story)

May 08, 2019

Superheroes inspire young people

(Story/Media)

Apr 29, 2019

Class of 2019 celebrates prom

(Story)

Apr 26, 2019

'After' disappointingly strays from book

(Story/Media)

Apr 22, 2019

Celebration dinner honors high-achieving seniors

(Media)

Apr 17, 2019

NHS gives daughters a Hawaiian dance with their dads

(Story/Media)

Apr 15, 2019

Promposals sweep through KHS

(Story)

Apr 05, 2019

Students ready to dance under the stars at prom

(Story/Media)

Apr 01, 2019

Christian hosts ghost-hunting session at KHS

(Story/Media)

Mar 22, 2019

'Five Feet Apart' sheds light on the hardships of cystic fibrosis

(Story/Media)

Mar 13, 2019

Singing, dancing will highlight Foreign Language Variety Night

(Story/Media)

Mar 13, 2019

'Happy Death Day 2U' will scare you, make you laugh

(Media)

Mar 08, 2019

Women's History Month: Dolly Parton is anything but a 'dumb blonde'

(Story)

Mar 04, 2019

'Isn't It Romantic' beguiles audiences

(Story/Media)

Mar 04, 2019

March is Reading Month: Classics unite generations of readers

(Story)

Mar 01, 2019

DePottey looks forward to adult life, reminisces on high school

(Story/Media)

Feb 11, 2019
Feb 04, 2019

Snowcoming gives students a second chance to participate in spirit days

(Story/Media)

Jan 30, 2019

Ellis Island opened the door for American Immigration

(Story)

Jan 23, 2019

National Winnie the Pooh Day celebrated the famous bear

(Story/Media)

Jan 23, 2019

Oh Mylanta, season four of 'Fuller House' excites fans

(Story/Media)

Jan 09, 2019

Artwork of the Week by Alexa Lippert

(Media)

Jan 04, 2019

'Mary Poppins Returns' is practically perfect in every way

(Story/Media)

Dec 19, 2018

Artwork of the Week by Makayla Shattuck

(Media)

Dec 19, 2018

Stefani brings Christmas spirit to life

(Story/Media)

Dec 17, 2018

Michigan movie lovers can visit blockbuster sets, locations

(Story)

Dec 14, 2018

Clever marketing increases holiday spending

(Story/Media)

Dec 14, 2018

'A Christmas Carol' turns 175

(Story)

Dec 12, 2018

Artwork of the Week by Madison Kreinbrink

(Media)

Dec 05, 2018

Artwork of the Week by Melinda Blaine

(Media)

Nov 28, 2018

Artwork of the Week by Sydney Horne

(Media)

Nov 19, 2018

Students gobble up Thanksgiving leftovers

(Story/Media)

Nov 15, 2018

'Bohemian Rhapsody' adds to Freddie Mercury's legend

(Story/Media)

Nov 08, 2018

'Sesame Street' continues to teach children after 49 years

(Story/Media)

Nov 01, 2018

K-Motion will host fundraiser for national competition

(Story)

Oct 30, 2018

'A Star Is Born' brings audiences to tears

(Story)

Oct 30, 2018

Hunt's classes make Halloween cards for fourth-graders

(Media)

Oct 25, 2018

Forget the tricks: Focus on these treats this Halloween

(Story/Media)

Oct 25, 2018

Students are split about celebrating Sweetest Day

(Story/Media)

Oct 18, 2018

Robinson wins distracted driving scholarship

(Story)

Oct 16, 2018

Volleyball falls to Linden

(Story/Media)

Oct 16, 2018

'The House with a Clock in Its Walls' disappoints

(Story)

Oct 11, 2018

'A Simple Favor' intrigues with twisting plot

(Story)

Oct 04, 2018

Seniors defeat sophomores to capture second semifinal

(Story)

Oct 04, 2018

Juniors win first semifinal powder puff game

(Story)

Oct 04, 2018

Wash, Walker lead juniors to second powder puff title

(Media)

Oct 02, 2018

Juniors represent powder puff court well

(Story/Media)

Oct 02, 2018

Harris crowned powder puff king from five-man court

(Media)

Oct 02, 2018

Juniors say aloha to Tropical Tuesday

(Story)

Oct 02, 2018

Freshmen prove they have school spirit for homecoming week

(Story)

Oct 02, 2018

Palm trees, paradise are on the minds of these seniors

(Story/Media)

Oct 01, 2018

Seniors find the humor in meme day

(Story/Media)

Oct 01, 2018

Sophomores get goofy showing off school spirit

(Story)

Oct 01, 2018

Johnson receives many giggles for her meme day attire

(Story)

Sep 25, 2018

Volleyball team defeats LakeVille, loses to Holly

(Story)

Jun 12, 2018

Killing off characters is a poor way to get rid of actors

(Story)

Jun 12, 2018

Jesse McCartney works on comeback

(Story/Media)

Jun 07, 2018

Claudia Moore finds happiness through song

(Story)

Jun 05, 2018

Lane represents students on the Board

(Media)

May 31, 2018

Senior year couples activities with expenses

(Media)

May 24, 2018

Softball defeats Blackhawks, ties for third in league

(Media)

May 22, 2018

Americans have good reasons to appreciate the royal family

(Story)

May 15, 2018

Juniors learn skills through mock interviews

(Media)

May 10, 2018

The Eclipse pins five SNO badges

(Story/Media)

May 07, 2018

Five fashion fads of the past I want back

(Media)

May 04, 2018

New 'Harry Potter' app is enchanting

(Story/Media)

May 02, 2018

Five juniors are eager to begin their final year

(Media)

May 02, 2018

Tennis glides past Blackhawks

(Media)

Apr 30, 2018

Softball swept by the Martians

(Media)

Apr 27, 2018

School will end one day later

(Story/Media)

Apr 26, 2018

Girl Talk: Three girls discuss common feminine affairs

(Story/Media)

Mar 28, 2018

Camping is a popular option for school breaks

(Story/Media)

Mar 14, 2018

Should teachers be armed?

(Media)

Mar 14, 2018

Teachers should be prepared for threats in school

(Story)

Mar 12, 2018

Students share alternate endings to their favorite movies

(Story/Media)

Mar 07, 2018

The student play 'Almost, Maine' opens March 9

(Media)

Mar 07, 2018

Madeline Raysin successfully balances a busy schedule

(Story)

Mar 06, 2018

March is Reading Month: Students indulge in romance

(Story/Media)

Mar 05, 2018

Women's History Month: Ellen DeGeneres' generosity makes the world a better place

(Story)

Feb 16, 2018

Teacher, students say we should be more concerned with ocean health

(Story/Media)

Feb 01, 2018

Five juniors believe Advanced Placement classes are beneficial

(Media)

Jan 31, 2018

German Victoria Sark enjoys spending time at KHS

(Story/Media)

Jan 22, 2018

Five students anticipate this year's top movies

(Story/Media)

Dec 15, 2017

High school students should be able to specify their studies earlier

(Story)

Dec 15, 2017

Three treats students can make for the holidays

(Story/Media)

Dec 15, 2017

Students debate the validity of famous myths

(Story/Media)

Dec 13, 2017

Niall Horan's solo work is successful

(Story)

Dec 08, 2017

These five merry tunes will put you in the Christmas spirit

(Story)

Dec 01, 2017

'Coco' entertains, teaches audiences about Mexican culture

(Story)

Nov 29, 2017

Universal Studios Hollywood offers visitors a great vacation

(Story/Media)

Nov 13, 2017

Inspirational women change the world

(Story/Media)

Nov 03, 2017

Tattoos should not be taboo in society

(Story)

Nov 01, 2017

Throwback movies bring students joy

(Story)

Oct 27, 2017

Three cheap, do-it-yourself costumes for Halloween

(Story)

Oct 23, 2017

Williams dreams of becoming a police officer

(Story)

Oct 18, 2017

Ten family-friendly Halloween movies to watch this October

(Story)

Oct 16, 2017

Apple orchards are a fun place to celebrate the fall season

(Story/Media)

Oct 13, 2017

Preparing for the homecoming dance can be stressful

(Story)

Oct 11, 2017

Wolfe crowned powder puff king

(Media)

Oct 10, 2017

Powder puff girls face off in semifinal games

(Media)

Oct 06, 2017

'Grey's Anatomy' kicks off season 14 with plenty of drama, romance

(Story)

Jun 12, 2017

The Eclipse gets new editor in chief, managing editor

(Story/Media)

Jun 12, 2017

'Bring it on': I'm looking forward to my upperclassmen years

(Story)

Jun 09, 2017

Kyle Langworthy, Stephanie Lane work hard for their relationship

(Story)

Jun 07, 2017

Some movie series don't know when to call it quits

(Story/Media)

May 25, 2017

You shouldn't be embarrassed by your acne

(Story)

May 24, 2017

Hollywood's version of a high schooler isn't real

(Story)

May 10, 2017

Students question the dress code

(Story/Media)

May 02, 2017

Many classic TV shows are still on the air that audiences enjoy today

(Story)

Apr 19, 2017

Michigan offers great places to visit

(Story/Media)

Apr 17, 2017

You should appreciate older siblings

(Story)

Mar 29, 2017

People draw inspiration from fictional characters

(Story/Media)

Mar 28, 2017

Theater students, like all students, deserve respect

(Story)

Mar 24, 2017

Immigration strengthens Kearsley's community

(Story/Media)

Mar 21, 2017

'Beauty and the Beast' exceeds expectations

(Story)

Mar 16, 2017

Sloan's Titanic exhibit takes visitors back in history

(Story)

Mar 14, 2017

Disney World brings magic to its visitors

(Story)

Mar 13, 2017

Monopoly replaces thimble game piece in new design

(Story)

Feb 23, 2017

An open letter: Grandma, you're the best a girl could have

(Story)

Feb 21, 2017

Mallory Simms strives to be the best dancer she can be

(Story/Media)

Feb 17, 2017

Girls can enjoy being single

(Story)

Jan 20, 2017

Attitudes toward school uniforms differ

(Story/Media)

Jan 13, 2017

Students have to learn CPR, says state Legislature

(Story)

Dec 22, 2016

Local bass player nominated for Grammy

(Story/Media)

Dec 14, 2016

"Hairspray Live!" gets mixed reviews

(Story)

Dec 09, 2016

Pentatonix Christmas album puts you in a holiday spirit

(Story/Media)

Dec 05, 2016

Students, teachers favor different learning techniques

(Story/Media)

Nov 22, 2016

Owosso will join the Metro League next year

(Story)

Nov 15, 2016

Students, staff praise "The Crucible" as a 10th-grade text

(Story)

Nov 08, 2016

Students should manage their college debt

(Story/Media)

Nov 04, 2016

The 50th CMAs wowed audiences

(Story/Media)