Superheroes inspire young people
Hang on for a minute...we're trying to find some more stories you might like.
With Marvel Studios releasing one of the most anticipated movies of the year, students have superheroes on the brain.
"Avengers: Endgame," released Friday, April 26, prompted many students to immerse themselves in the world of superhuman abilities, other-worldly chaos, and colorful bodysuits.
Chloe Clarambeau, senior, would want her superhero alter ego to have telepathic abilities.
"(I would want) telepathy so that I could know what people are thinking and use that to my benefit," Clarambeau said.
Junior Brendan Nowacki would want as many powers as possible.
"I would choose the super power 'copycat' to recreate any power I see," Nowacki said.
With entire universes to explore, students have a wide range of heroes to pick from when choosing their favorite.
From outfits and powers, to personalities and backstories, superheroes have unique characteristics that define who they are.
"
My favorite superhero is Captain America because he is humble and kind."
— Briahna Gree, senior
Senior Briahna Greer's favorite superhero is Captain America, the patriot of the Marvel universe.
"My favorite superhero is Captain America because he is humble and kind," Greer said.
Many children grow up having superheroes like Thor and Wonder Woman as role models.
While superheroes are capable of inhuman things like flying and shooting spider webs, they still keep in touch with their human origins. They teach fans to overcome obstacles, resist temptation, and use their influence for the greater good.
Greer thinks people look up to superheroes because of their resilience.
"They're inspiring because they're able to stay strong in the toughest situations," Greer said.
Superheroes grew in popularity in the 1930s with the help of comic books and films. As comic books gained larger followings, artists created more and more stories with complex heroes and captivating plots.
The entertainment industry is constantly evolving, with audiences pushing for more diversity and representation from the movies people watch.
Clarambeau has enjoyed seeing the modern female influence that's been sweeping through the superhero sphere of Hollywood.
"I'm not sure what specific type (of hero) I would like to see next, but I definitely like the strong female superheros who are becoming more prominent in the superhero universe," Clarambeau said.
About the Contributor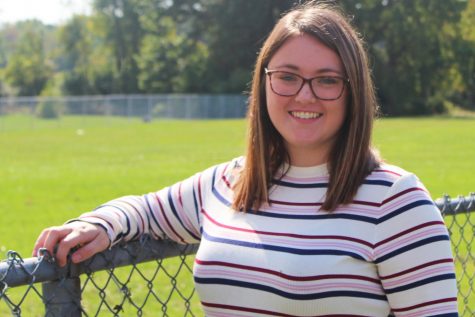 Autumn Prescott, Special Projects Editor

Birthday: Aug. 2, 2001
Hobbies/Interests: NHS, drama club, Freshman Mentors.
Favorite Quote: "Find out who you are and do it on purpose."...