'A Star Is Born' brings audiences to tears
The fourth take on one of Hollywood's most recognizable stories, "A Star Is Born," hit theaters Oct. 5.
The remake stars Bradley Cooper and Lady Gaga, along with Sam Elliott and Anthony Ramos.
The movie follows the story of struggling artist Ally (Gaga) after meeting musical superstar Jack Maine (Cooper). The two fall in love and Maine helps Ally break out of her shell and become the musician they both knew she was born to be.
The movie was Gaga's big-screen debut and Cooper's directorial debut.
Gaga's and Cooper's voices blended beautifully together and Gaga's toned-down acoustics were a delightful change from her usual aesthetic. While it's true her musical performances weren't as extravagant as her most recognizable projects like her award show performances and music videos, they were still breathtaking.
Even without the stand-out musical talent, the plot itself was enough to keep the audience on the edge of its seats.
The film took a unique stance on addiction and drug abuse, portraying the relationship between two people with no private lives and personal problems that escalate with their popularity in the public eye.
It earned a 90 percent on Rotten Tomatoes and had an Audience Score of 84 percent.
Going into the theater, I was expecting to see an excellent movie and I wasn't disappointed.
The drama, humor, lighting, and sound — everything about the movie — impressed me. Cooper's performance of an alcoholic musician with advancing medical issues and a soft spot for music was never questionable. He played a character that the audience could sympathize with, choosing to show the audience how impactful addiction can be in someone's life.
The movie had a lot to live up to. The original 1937 musical starred Janet Gaynor and Fredric March, while the 1954 version featured Judy Garland and James Mason. Arguably, the most popular version of "A Star Is Born" was released in 1976 with the acting and musical talent of Barbra Streisand and Kris Kristofferson.
Senior Mallory Simms enjoyed the movie's romantic plot and heart-wrenching character development.
"I really liked that movie because the love story was so sweet and moving. I loved that Ally never gave up on Jack, and loved him despite his flaws," Simms said. "I love that Jack supported Ally's career and how he believed in her from the first time he heard her sing. I loved watching how he found true joy when he was with her."
Simms loved the entire movie, despite the unexpected ending.
"Even though the ending shattered my heart, the love story throughout the movie allowed me to enjoy this movie overall," Simms said.
Leave a Comment
About the Contributor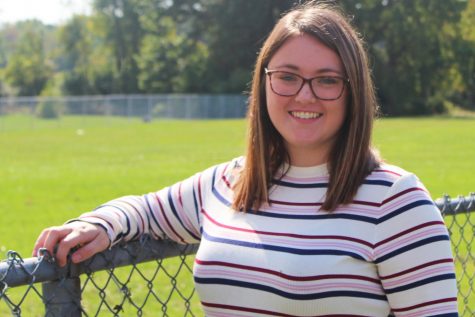 Autumn Prescott, Special Projects Editor

Birthday: Aug. 2, 2001
Hobbies/Interests: NHS, drama club, Freshman Mentors.
Favorite Quote: "Find out who you are and do it on purpose."...