'A Simple Favor' intrigues with twisting plot
Hang on for a minute...we're trying to find some more stories you might like.
"A Simple Favor," starring Anna Kendrick and Blake Lively, adds a compelling twist to the thriller genre.
The film utilized intricate plot points and backstories that, while hard to keep straight, kept the story interesting.
The movie centers around Stephanie Smothers, the stereotypical "perfect" mom. She signs up for every school event at her son Miles' elementary school. She also runs a vlog for moms and is never seen without a pop of color or fun-patterned outfit.
When Stephanie's best friend Emily Nelson goes missing, Stephanie digs into her friend's past and uncovers secrets she never would have suspected, and ones that were better left hidden.
The film was great and never predictable. Every time I thought I knew where the plot was going, 10 minutes later I was re-thinking my entire theory.
Besides the confusing-yet-compelling story line, the cast blew me away.
After her roles in films like "Pitch Perfect" and "Mike and Dave Need Wedding Dates," I never would have expected Kendrick to be able to pull off the role of a "mommy vlogger."
She proved me wrong, however, and the movie showed her capability to express her character.
I was also shocked by Blake Lively's role as the mysterious, chic mom whom no one knows anything about. She emphasized her character's poise and confidence in a way I don't think any other actress could.
The film's aesthetic make up was interesting. It felt like what would happen if someone mashed together "Criminal Minds" and a show like "Gilmore Girls."
While you would never think to put those shows together, once you do you have something completely unique and fascinating.
The movie was led by two wonderful actresses, so it offered a feminine side. But it was also packed with mystery and suspense. And while in the beginning Stephanie brought a lighter side to the film, the character and plot development continuously got darker, which made the movie able to seamlessly ease into a kind of murder-mystery.
Senior Devon Vaughn thought the movie was good, especially because he didn't know what to expect beforehand.
"I liked it," Vaughn said. "It was a good movie. It had action and a good amount of suspense."
While the film is dark, there was some comedy throughout. Kendrick brought her unique style to the film with her iconic one-liners and awkwardness.
In addition, the film had a supporting cast that included Andrew Rannells, Kelly McCormack, and Aparna Nancherla. The trio would make appearances throughout the film and spit out witty jokes and judgments about the two protagonists, which added a little backstory and humor to the show.
I had to work hard to keep the story line straight, but the movie was well worth the effort thanks to the talented cast and intriguing plot. It kept me on my toes and provided a fresh story that kept me on the edge of my seat.

About the Writer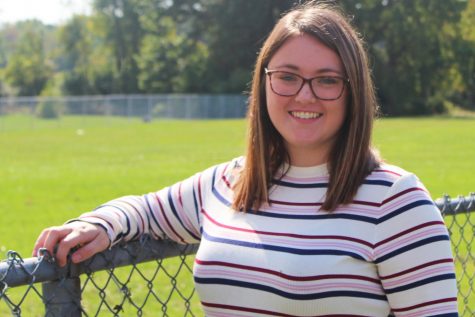 Autumn Prescott, Special Projects Editor

Birthday: Aug. 2, 2001
Hobbies/Interests: NHS, drama club, Freshman Mentors.
Favorite Quote: "Find out who you are and do it on purpose."...