Ellis Island opened the door for American Immigration
Hang on for a minute...we're trying to find some more stories you might like.
With immigration being one of the most debated topics in modern politics, it's important to look back on its history and see how it's evolved.
Since 1892 Ellis Island has been known as a gateway to freedom. If someone was immigrating to America, there was a good chance that they would be starting their American dream by setting foot on the famous island.
Mr. Robert Markwardt, history teacher, said the island upheld sanitary conditions and ensured immigrants were safe to come into the country.
"For many it was their first glimpse of America," Markwardt said. "It also sought to make sure those entering were healthy and clean to enter the country."
According to History, between 1900 and 1914, 5,000 to 10,000 people passed through the island on a daily basis. While many immigrants remained in New York, others continued their travels until they found a spot to settle down.
While the immigration station was in use, it saw a rise in diversity.
Gradually, more Jewish immigrants from Russia were fleeing to America to escape oppression. Fewer western Europeans were seen arriving on the island while a larger wave of eastern Europeans were sailing to the United States, in hopes of escaping poverty.
While Ellis Island closed as an immigration center in 1954, it was converted into a museum and opened to the public in 1990.
The Liberty Ellis Foundation describes the museum as a French Renaissance Revival structure, which has been restored to its appearance during the peak of its popularity.
The museum "tells the moving tales of the 12 million immigrants who entered America through the golden door of Ellis Island."
Senior Mallory Simms found the museum breathtaking, along with the natural scenery found on the island.
"I loved how beautiful and authentic the immigration building was," Simms said. "The largest room where immigrants waited to pass inspection was gorgeous and had tidal floors and a tall ceiling."
There is no purchase necessary to enter the museum, although ferry tickets are necessary to reach the island.
Adult tickets for the boat ride cost $18.50, tickets for children over the age of 4 cost $9, and anyone over the age of 62 can purchase a ticket for $14. Children under the age of 4 ride for free.
Simms thinks more people should visit the museum, saying it's an educational experience.
"I definitely think more people should visit. Not only is it a beautiful escape from the city, but it really makes you step back and think about what generations of Americans had to endure in order to live freely in the United States," Simms said.
Simms found the information provided at the museum easy to relate to modern political issues.
"It (the museum) also helped me learn about current immigration laws and processes, which is an important issue in our country today," Simms said.

About the Writer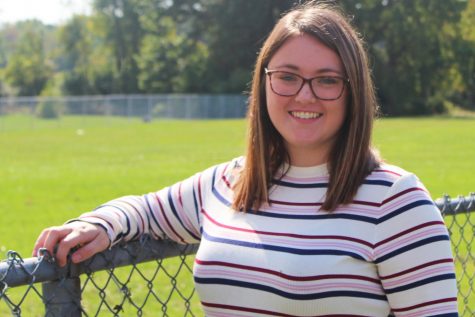 Autumn Prescott, Special Projects Editor

Birthday: Aug. 2, 2001
Hobbies/Interests: NHS, drama club, Freshman Mentors.
Favorite Quote: "Find out who you are and do it on purpose."...