DePottey looks forward to adult life, reminisces on high school
With over a decade as a member of the Kearsley community, senior Allison DePottey has the heart of a Hornet.
Blue and gold, volleyball games, and choir concerts make up only a fraction of DePottey's life as a student at KHS.
With so many happy memories and unforgettable experiences, dedicating the next four years to another mascot and family can be difficult.
While DePottey will always be a Hornet at heart, she will now be splitting her dedication with Eastern Michigan University and becoming an Eagle.
While DePottey is nervous to move, she is also excited for the change.
"I'm excited for new experiences and new people," DePottey said. "I have no clue how I'm going to adjust to the college life. It is definitely going to be weird to not have my dog with me."
One of the biggest adjustments DePottey will make next fall is being farther away from her classmates.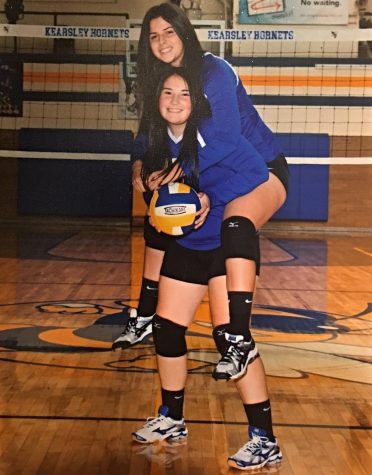 "I am going to miss all my friends and my favorite teachers and teammates, along with all the sports I played," DePottey said.
Many of DePottey's closest friends double as her teammates.
After one year of playing tennis, one year of playing softball, and spending all four years of high school on the volleyball team, DePottey has made friends with many other athletes.
Senior Briahna Greer is one of DePottey's closest friends. When they both started playing volleyball, the two were able to spend even more time together.
"For warm-ups, we are partners all the time, and we have a great time because we laugh at each other if we mess up," Greer said.
Chinyari Miles, senior, is also good friends with DePottey.
Miles and DePottey strengthened their bond through softball, and during the 2016-17 season, the two were inseparable.
"(It was) a blast. No one could separate us," Miles said. "We did school softball and summer softball together. It was completely different once she stopped playing."
The trio of DePottey, Greer, and Miles have been joined at the hip since elementary school.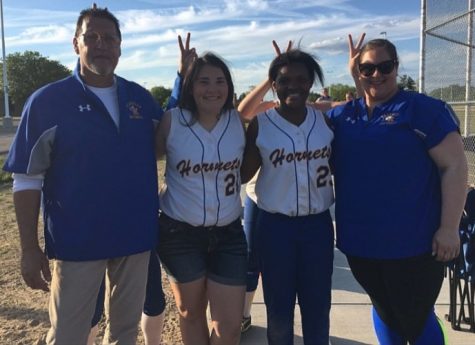 "(We've been friends) since third grade," Greer said. "We met at Fiedler Elementary."
Throughout her time at KHS, DePottey's love of choir and singing has strengthened.
"I started choir in the sixth grade and loved it ever since," DePottey said. "I enjoy choir because it's a good mental break and a different way of thinking and applying in the classroom."
Besides committing her time to sports and classwork, DePottey spends a significant amount of time with her family.
DePottey believes her family is a vital aspect of her life.
"I find family important because they will always support you," DePottey said.
Because of the large role her family plays in her life, DePottey makes sure to devote plenty of time to keeping their relationships in tact.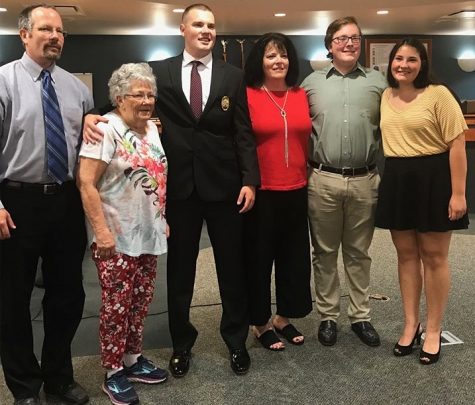 "My favorite thing about my family is how close we all are, especially with my siblings," DePottey said. "We all stay close with our family with game nights and telling each other when something big or small happens."
DePottey's mother, Mrs. Bridget DePottey, is proud of her daughter's accomplishments at KHS and looks forward to the adventure of college life Allison will experience.
"(I am most proud of) her hard work and dedication to her grades because it's something that doesn't come easy," Mrs. DePottey said. "I look forward for her to have new experiences, meeting new people, and having a bright future ahead of her."
Allison knows graduation will be the beginning of many changes and is ready to begin her future.
"I am excited and a little nervous about graduating," Allison said. "Some aspects of high school will not be tough leaving, like waking up early, but changing my daily routine will be different."
Despite the challenges the changes will bring, Allison looks forward to the next phase of her life. She's planning ahead and staying focused on her goals.
"I see myself looking into adopting my own dog and moving into an apartment after college," Allison said. "I am most excited to experience college life."
About the Contributor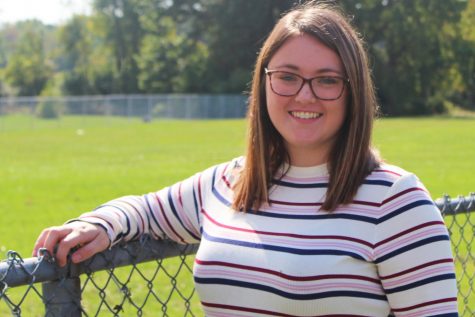 Autumn Prescott, Special Projects Editor

Birthday: Aug. 2, 2001
Hobbies/Interests: NHS, drama club, Freshman Mentors.
Favorite Quote: "Find out who you are and do it on purpose."...