Promposals sweep through KHS
Hang on for a minute...we're trying to find some more stories you might like.
With prom coming up quickly, promposals have once again become a common sight at KHS. While walking the halls you may see someone carrying a bouquet of flowers or a box of doughnuts with "please doughnut say no to prom?" scrawled across the top.
Instead of a simple phone call or conversation at school, some students are stepping up their game when it comes to asking for a prom date.
Promposals consist of someone using creative resources to ask their date to prom. Poster boards, flowers, and food are popular items when it comes to creating the perfect promposal.
Senior Mallory Simms was asked to prom by senior Stephen White.
White surprised Simms at her house with balloons and a small sign that said, "I just popped by to ask you a question."
Simms enjoyed the gesture and the meaning it represented.
"It made me feel special,' Simms said. "He put the time into choosing and carrying out the perfect promposal, and it was really nice."
Promposals can be big or small.
The most important aspect is that it's unique. In addition, if it involves a pun it will most likely be a hit.
Senior Nick Williams asked his girlfriend to prom with the help of Gerych's Flowers & Event Design.
The business allowed Williams to write out, "Abby please go to prom with me? Love, Nick" on it's sign.
"I wanted to use a big gesture because everything else is boring and I wanted to do something she would remember," Williams said.
While promposals can be considered over-the-top, they're an original way to get a prom date.
Senior Josh Gunther used a sign and Taco Bell sauce packets to ask his girlfriend, senior Mary Wheeler, to the dance.
"Sometimes I think they (promposals) can be cheesy, but at the same time I think they're so cute," Wheeler said. "I loved being asked with one."
Despite the popularity of promposals, students aren't relying on the grand gesture to have fun at prom.
Simms loves the joy promposals evoke, but doesn't find them necessary when it comes to enjoying the dance.
"I would go with someone even without a promposal. To me, it doesn't matter if they show up with a giant bunch of balloons or ask through a simple conversation," Simms said. "What's important is that you get to go to the dance with someone you enjoy spending the occasion with."

About the Writer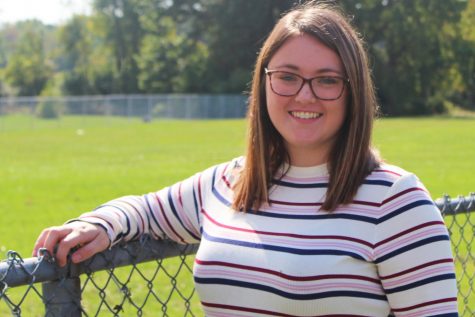 Autumn Prescott, Special Projects Editor

Birthday: Aug. 2, 2001
Hobbies/Interests: NHS, drama club, Freshman Mentors.
Favorite Quote: "Find out who you are and do it on purpose."...