'Five Feet Apart' sheds light on the hardships of cystic fibrosis
Most romance films center around love, fate, and grand gestures. While "Five Feet Apart" has all of these things, it also focuses on hospital visits, antibiotics, and sterile conditions.
Stella Grant (Haley Lu Richardson) is a teenager who has spent her life in and out of the hospital due to cystic fibrosis. Her out-of-control disease forces her to practice a strict, organized lifestyle.
While spending another prolonged amount of time in the hospital, Stella meets Will Newman (Cole Sprouse), whom she refers to as a "CF-er" (someone who has cystic fibrosis).
Will's tendency to break the rules and ignore his medical regimen frustrates Stella. The two join together so Stella can control his routine and Will can spend his time drawing her.
The movie taught senior Shelby Price about cystic fibrosis and what people diagnosed with the disease deal with every day.
"I have heard the name cystic fibrosis, but I never understood what the actual illness was," Price said. "I've learned that it's an abnormal amount of mucus buildup in the lungs, which causes breathing issues."
The film showcases the large and small struggles of the young couple. Their shared sickness restricts them from standing closer than six-feet apart, which puts a strain on their developing relationship.
Because of their growing feelings, the pair decide to "steal a foot back" and separate themselves by only five feet, leading to the movie's title.
While avoiding their nurse's orders to stay away from each other, Stella and Will visit the NICU together, go on dates, and even leave the hospital to visit the city on a grief-induced whim.
"Five Feet Apart" combines heart-wrenching romance and tragedy to create a beautiful story. The fusion of small moments with an overall, gloomy plot produced a movie impossible to watch without a box of tissues in one hand and candies in the other.
Price said the movie earned a high rating and suggests everyone see it.
"I loved the movie. Overall, I would give it an 11 out of 10, and I recommend this movie to anyone," Price said.
About the Contributor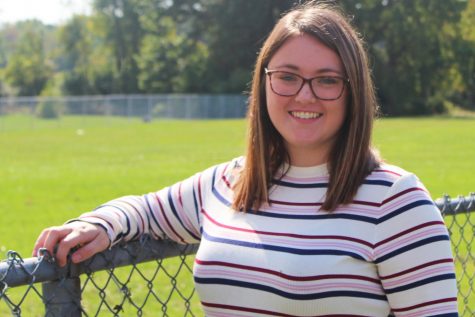 Autumn Prescott, Special Projects Editor

Birthday: Aug. 2, 2001
Hobbies/Interests: NHS, drama club, Freshman Mentors.
Favorite Quote: "Find out who you are and do it on purpose."...