'Mary Poppins Returns' is practically perfect in every way
Hang on for a minute...we're trying to find some more stories you might like.
Disney has once again brought magic to the big screen with its latest movie, "Mary Poppins Returns."
The anticipated sequel to the 1964 musical was released Wednesday, Dec. 19.
The film features a spectacular cast.
Emily Blunt takes on the titular role while Lin-Manuel Miranda plays lamplighter Jack. Meryl Streep, Colin Firth, Julie Walters, and Angela Lansbury (who is already known in the Disney universe as Mrs. Potts) all make an appearance as well.
The best casting decision the movie made was a brief cameo by Dick Van Dyke, who played Bert and Mr. Dawes Sr. in the original film.
"Mary Poppins Returns" is just as magical as its predecessor, with new songs, colorful costumes, and CGI animals reminiscent of the original.
Blunt was magnificent as the mysterious English nanny, and she captured the essence of the character while bringing her own unique charm to the film.
In the film, Poppins returns to 17 Cherry Tree Lane to help care for the now-grown Micheal Banks and his family.
Banks has gotten behind on bills after the death of his wife and must find a way to save his childhood home along with caring for his three children: Annabel, John, and Georgie.
The movie advances nicely with witty humor, captivating musical numbers, and scenes that tug at your heartstrings.
Blunt and Miranda have great chemistry, just like Julie Andrews and Dick Van Dyke did in the first movie adaption of the P.L. Travers books.
Throughout the film, you could see how each scene corresponded to a scene from the first movie.
Bert was a hardworking chimney sweep while Jack is a determined lamplighter. The matriarch of the Banks family, Winnifred, was a suffragette. In "Mary Poppins Returns," Jane Banks has grown up to be a labor striker.
When Mary takes the children to visit her cousin Topsy, it is charmingly similar to the first movie when Jane and Michael meet Mary's uncle Albert.
The sequel stayed true to its roots while offering original music and a plot to keep audiences interested. Fans of the original will feel right at home while watching and viewers new to the story will be enchanted.
It earned a 79 percent on Rotten Tomatoes while grossing $4.8 million on its first day in theaters.

About the Contributor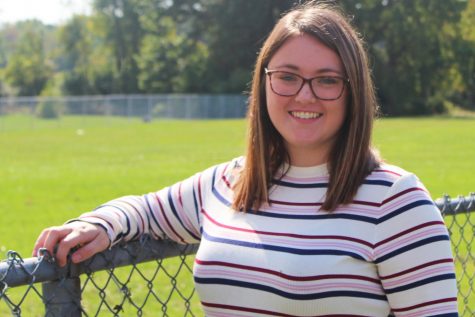 Autumn Prescott, Special Projects Editor

Birthday: Aug. 2, 2001
Hobbies/Interests: NHS, drama club, Freshman Mentors.
Favorite Quote: "Find out who you are and do it on purpose."...