Oh Mylanta, season four of 'Fuller House' excites fans
Hang on for a minute...we're trying to find some more stories you might like.
This story contains spoilers.
Season four of "Fuller House" dropped on Dec. 14.
The Netflix original revived the Tanner family in 2016, introducing a whole new generation to the family's crazy antics.
Madison Burroughs, senior, has been watching the show since its release and enjoys the similarities it has with the original program.
"My favorite part of the show, as a whole, is that it keeps the same energy that 'Full House' had," Burroughs said. "It shares the same messages but with different problems."
The first episode of the season begins on Christmas Eve, with the Tanner family unprepared for the holidays. It was a nice way to ease back into the shenanigans of the household.
DJ, Stephanie, and all the other Tanners meet many obstacles in the 13-episode season.
DJ has to find a way to cooperate with her ex-boyfriend Matt, who continues to hold a grudge against her. Stephanie must prepare for her and Jimmy's baby, which is especially difficult considering Kimmy, Jimmy's sister, is their surrogate.
The Tanner children face confusing times as well. From missing their late father to struggling with school, Jackson, Max, and Tommy grow up in front of viewers' eyes, just like the children of the show's predecessor.
Senior Mallory Simms is happy the show made a comeback.
"I think it was a good idea (to bring the show back) because 'Full House' was my favorite show as a kid, and to see my favorite characters in modern times is very entertaining," Simms said.
"Fuller House" is one of Netflix's top runners in the binge race. Binge-racing is when viewers watch an entire season of a show in the 24 hours after its release.
Simms didn't finish the show in the first 24 hours after its release, but she still found it addicting.
"I actually finished it all in a matter of two days," Simms said. "I loved it and could not stop watching it."
Since the premiere of "Fuller House,"many other shows that have been off the air have made a comeback as well. "Will and Grace," "Girl Meets World," and "Charmed" have all returned to television since 2016.
Netflix also recently brought back another show, "The Chilling Adventures of Sabrina," which was known as the '90s comedy "Sabrina the Teenage Witch."
One of the longest running plots of "Fuller House" is the love triangle between DJ, Steve, and Matt.
While Steve has been a love interest of DJ's since the original show, Matt was introduced in the revival as DJ's coworker and eventual boyfriend.
Both Burroughs and Simms think DJ should be with Steve.
"He's her high school sweetheart. I'm all for that," Burroughs said.

About the Contributor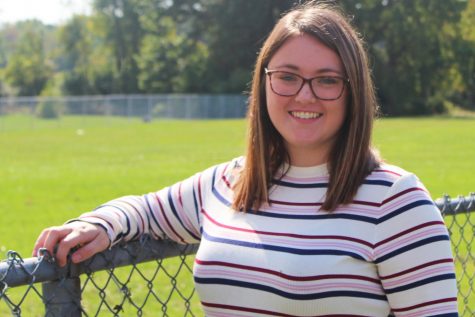 Autumn Prescott, Special Projects Editor

Birthday: Aug. 2, 2001
Hobbies/Interests: NHS, drama club, Freshman Mentors.
Favorite Quote: "Find out who you are and do it on purpose."...