Parker bids farewell with the Class of 2019
Hang on for a minute...we're trying to find some more stories you might like.
After 33 years at KHS, Ms. Cindy Parker, art teacher, is saying goodbye.
Parker started as a physical education teacher after graduating from Central Michigan University. She is a proud Chippewa and will take any opportunity to shout, "Fire up, Chips," in her classes.
Senior Madeline Raysin spent three years in Parker's art classes and appreciates her flexible expectations.
"I like her as a teacher because she is understanding of who I am as an artist and a person," Raysin said. "She knows when I can't meet a deadline because she knows I've worked so hard to get the artwork to be where it's at at the moment."
Parker's favorite aspect of teaching is being able to see her students flourish — especially when they doubted themselves beforehand.
"I love what I teach. I love to see the kids succeed who thought they couldn't," Parker said. "To show them that they can do what they thought they couldn't, whether that's in physical education or art."
Parker reminisced on time spent with her coworkers.
From teaching students to save a drowning person with Mrs. Amy Graham, health teacher, to swapping pranks with Mr. Ed Councilor, history teacher, Parker has made memories with every teacher in the building.
Mrs. Caitlin Manson, Spanish teacher, became close with Parker because of how close their classrooms were.
"My first year of teaching, I had Room 501 next door to hers and we shared a door," Manson said. "I would always pop over to say hi, ask questions, and talk about MSU basketball, and then she, in turn, would also ask me questions about how to use her iPad."
While Manson is happy for Parker, she will miss her during work.
"I am sad she won't be at KHS next year so we can chat in the copy room and at staff meetings, but (I) know she has had a long and successful career and is very much looking forward to retiring," Manson said.
Parker's No. 1 goal in her professional life is helping students overcome barriers they think they can't.
"It really bothers me when students say, 'I can't do it,' before they've even tried," Parker said.
Junior Claire Ouellette has known Parker as a teacher and family friend. She is grateful for Parker's consistent reminders to do better and appreciates Parker for her positive presence in her life.
"One thing I want to tell her is thank you for always pushing me to try new things and become the person I am," Ouellette said.
Despite leaving KHS after this year, Parker won't forget the love she's felt as a member of the Kearsley community.
She's leaving with the Class of 2019, a group of students she is fond of.
"I'll miss the laughter and the students that have great personalities that put a smile on my face," Parker said. "Regardless of the occasional negative student, there's a large amount of positive (students). I wanted to go out with a class I really love."
About the Contributors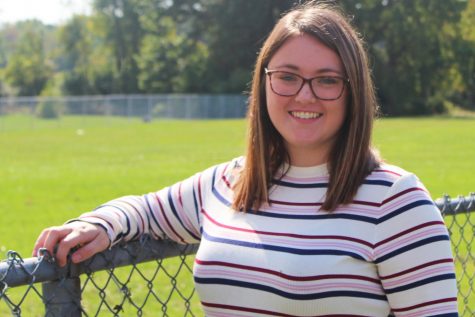 Autumn Prescott, Special Projects Editor

Birthday: Aug. 2, 2001
Hobbies/Interests: NHS, drama club, Freshman Mentors.
Favorite Quote: "Find out who you are and do it on purpose."...