Students share alternate endings to their favorite movies
Hang on for a minute...we're trying to find some more stories you might like.
While Hollywood movies are known for their captivating plots and lovable characters, some films just miss the mark when it comes to finding a way to tie up their cinematic journey.
A bad ending leaves audiences feeling disappointed. It can ruin the entire movie.
An ending offers many things to viewers. It's supposed to resolve conflict and leave audiences feeling happy that the fictional characters they've invested their time in have come to a good point in their adventure.
Films that leave characters in bad places or just don't offer the expected or wanted ending become movies that viewers learn to avoid.
Some movies are based on books, which means they usually have limited options when it comes to finding a unique ending. Some movies, however, go the opposite direction and don't follow the original written ending at all.
The following students share their feelings on movie endings, some of these comments will contain movie spoilers for "Harry Potter," "Willy Wonka and the Chocolate Factory," "Charlie and the Chocolate Factory," "La La Land," and "Jumanji."
Nadia Calvert, junior, feels that the ending of the "Harry Potter" franchise could have been better, even though it closely follows the ending written in the original novel by J.K. Rowling.
"No one should have gotten together," Calvert said. "It doesn't make sense to put the smartest witch (Hermione Granger) together with the kid who runs the joke shop (Ron Weasley). It also doesn't make sense to throw Harry Potter and Ginny Weasley into a romance that came out of nowhere."
Classic movies are not immune to disappointing their followers either. While these movies have stood the test of time, some of their endings have fans wondering what happened after the cameras stopped rolling.
While endings are good, they leave the audience wanting more. This need for information can bother audiences to the point where they grow to seriously dislike a movie's conclusion.
"
I always wished that 'Willy Wonka and the Chocolate Factory' and 'Charlie and the Chocolate Factory' would have ended differently."
— Cole Zemore
Sophomore Cole Zemore thinks the endings to "Willy Wonka and the Chocolate Factory" and it's remake, "Charlie and the Chocolate Factory," could have been more informative.
"I always wished that 'Willy Wonka and the Chocolate Factory' and 'Charlie and the Chocolate Factory' would have ended differently," Zemore said. " I wish they would have shown the future and what it's like when Charlie runs the factory."
The predictability of certain movie genres is also a factor many people rely on.
People enjoy watching romantic comedies, knowing that in the end they guy will get the girl and everything will be resolved. In the same way, moviegoers like knowing that while watching a horror film they can expect to be scared and know that only one or two characters will make it out alive at the end.
When movies stray from the expected ending, viewers can often feel disappointed.
Kearsley alumna Hailey Whitlock found the unpredictable ending of "La La Land" to be subpar.
"It should have ended like every love story where he gets the girl," Whitlock said. "I understand why they did it. I just wish it could have ended a little bit differently."
Most of the time, even when viewers disagree with a movie's ending they can understand why the filmmakers chose to go the way they did. Endings can be informative and final without meeting a viewer's expectations.
This is how junior Chloe Clark feels about the recent "Jumanji" movie.
"I think they should've made Nick Jonas' character come back to normal time at the age he was when he went into the game," Clark said. "I guess it makes sense that they didn't, but they made this thing between him and the character Bethany and then they kind of just ripped it away by making him a middle-aged man at the end of the movie."

About the Contributor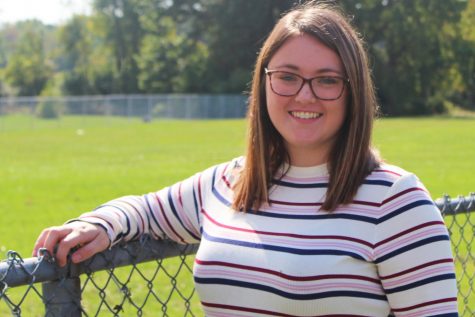 Autumn Prescott, Special Projects Editor

Birthday: Aug. 2, 2001
Hobbies/Interests: NHS, drama club, Freshman Mentors.
Favorite Quote: "Find out who you are and do it on purpose."...