Black Friday: A beloved or hated day?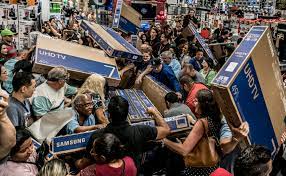 Black Friday is one of the most dreaded times of the year. Black Friday takes place the Friday after Thanksgiving, and this day typically launches the Christmas shopping season.
In itself, Black Friday isn't really a holiday, it's just that around this time many retailers have huge sales on items and a lot of their merchandise tends to be a lot cheaper.
However, many people, including our very own Kearsley students, agree that this time of early Christmas shopping sprees is the worst time to find items that you want this year.
Many people fight over the cheap and low-priced items at retail shops or stores.
In more recent times, Cyber Monday was introduced, which has been beneficial to stopping Black Friday violence and is a great adaption to 21st century's tech-y times.
As time goes on, more and more people move to the internet to do their holiday shopping, thus creating a Black Friday for online shoppers!
This day is called Cyber Monday, and this is the Monday after the Thanksgiving holiday.
This does not make shopping during this time any easier though.
If online shopping is something you like to do, make sure you wake up at midnight on Cyber Monday so you can be one of the first to receive your items.
It can be really annoying to see the 'Out Of Stock' text at the bottom of your screen!
I asked a few students about their opinions of Black Friday and what they typically shop for during this time.
Freshman, Alexis Mccormick, explains why she chooses to experience Black Friday.
"Well I don't really go shopping. My mom mostly does, but what I have heard from her is that it's hectic," Mccormick added.
Another Freshman, Ajax Prevett, told me,
"I hate it so much with a burning passion," Prevett said.
Prevett explained that Black Friday isn't the most sensible of holidays.
"It's like trying to get into an amusement park that's packed with people. Wrapping up the interview, they also stated "Make sure you write this down too, Black Friday is the worst time of year."
As you can see, even our fellow students can agree that Black Friday is a terrible time to go out and do… anything really. This year might be either better or worse due to the COVID-19 pandemic.
With that sickness still going around, it's better to take precautions. Especially in the large crowds, as people like to shove others around, causing injury.
This year, if you plan to go out during Black Friday, stay safe!
It can be very challenging to go out as well as dangerous for you to do so.
Be sure to get your items, but also stay away from any crazy shopper, as it's not only you who wants the amazing deals during this time.