Symphonic band entertains audience
Hang on for a minute...we're trying to find some more stories you might like.
Kearsley's symphonic band performed its holiday concert Friday, Dec. 7, to an enthusiastic audience.
The band spent months preparing for the concert.
When asked about struggles leading up to the concert, senior Tyler Gronauer, drum major, was honest.
"I think it was focusing," Gronauer said. "It's always a big thing (Ms. Alison) Phelps is talking about. Concerts can kind of sneak up on us."
Gronauer also thought the band meshed well.
"I think we blended really well overall," Gronauer said. "You can hear that it was a band playing more than individual parts."
Gronauer has been a longtime member of the Kearsley band and has been drum major for the marching band the last two seasons.
The symphonic band played an arrangement consisting of "Christmas Rock," "21st Lancers," "American River Songs," and the "Nightmare Before Christmas."
Senior Lance Hawkins, percussionist, believes members of the band have become much more involved and passionate.
"We've grown a lot," Hawkins said. "A lot of kids are seemingly more passionate about band now than they have been in the past. Kids want to be here now, and they want to do the work to make the band good."
Hawkins thought the performance was good but needed some smoothing out.
"I think we performed decently well. There were a couple parts that were rough around the edges," Hawkins said. "But, overall, we really executed our performance really, really well."
The concert also featured a preliminary performance from the jazz band.
The jazz band has only been around for the last year since Ms. Alison Phelps, band director, came to Kearsley.
Senior Lindsey Bouchard feels that despite some challenges, the jazz band persevered.
"I think for the jazz band being smaller this year, we really preformed well," Bouchard said. "Our tone and organization was a little messy and needed some work, but we made up for it with our volume and confidence."
The band performed superbly and has yet again successfully entertained its audience.

About the Photographer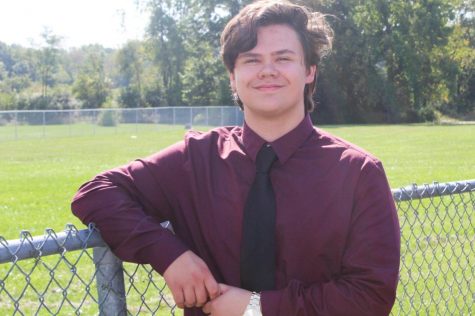 Brennan Ulman, Reporter

Birthday: Feb. 12, 2001
Hobbies/Interests: Playing guitar and listening to music.
Favorite Quote: "The internet made fame wack and anonymity...