Italian exchange student Amato loves to travel
Hang on for a minute...we're trying to find some more stories you might like.
Senior Giulia Amato, 17, believes that traveling is something everybody should do to experience some of the things she has during her time traveling around the world.
The list of places she has visited is lengthy.
"I love traveling, I have been to New York and Miami already in the U.S.A.," Amato said. "I have been to Europe, Barcelona twice, Valencia, Milan three times, Rome twice, and London four times."
But that is not all. Amato has visited several other parts of the world.
"I've been to a lot of cities in England, like Oxford and Brighton," Amato said. "I also have traveled to Prague twice, Wien, Budapest, Hamburg twice, Paris and Disneyland Paris twice, Switzerland, and also (I) have visited other places in Italy."
In addition, Amato enjoys spending time with her friends and also loves to play volleyball.
Amato is from Sardinia, a large Italian island and the second largest island in the Mediterranean.
She lives with her parents Mr. and Mrs. Nicola and Lucia Amato. She is an only child.
Giulia said the United States has many differences from Sardinia.
In Sardinia, the school curriculum is more difficult than at KHS.
Sardinians don't have lunch at their school and their school goes from Monday through Saturday for five hours everyday.
Amato enjoys how things are in the United States and said she stays with her host parents, Mr. and Mrs. Keith and Jennifer Barkiewicz.
"I love them," Amato said. "They've been so nice since the first day. I am so happy to stay with them."
She and her host parents have traveled around Michigan during her time here.
"They took me to Port Huron once before school had started," Amato said. "It was so fun. I've had a really good time here."
She has made many new friends at Kearsley, and she's having a great time in Michigan.
One of Amato's friends, senior Mickeely Dias, was happy to have Amato here. Dias said Amato makes her laugh and people enjoy being around her.
"I thought she was very funny and deaf especially since she has a hard time understanding things, so she would yell, 'Huh?' and 'What?' because she couldn't hear or understand us," Dias said. "I'll miss her dearly (when she returns to Sardinia). She's become one of my best friends, and it'll be weird not having her here with us."
Another friend Amato has made is senior Lindsay Flynn.
Flynn quickly clicked with Amato and appreciates the bond the two have created.
"We have gotten really close since she has been here," Flynn said.
Flynn appreciates Amato's humor.
"My favorite thing about her is that she is very funny," Flynn said.
Unfortunately, Amato's time as an exchange student in the United States will end June 26.
"I think that I will be sad (when I have to leave)," Amato said. "I'll definitely miss my host family, my friends. I'll miss pretty much everything about the United States."
When she goes back home she will start university.
She hopes to come back to the United States for the holidays.
She's had an amazing time and is happy with how her life is turning out.
"I feel so lucky to be here. A lot of people would do anything to be where I am," Amato said. "So I'm forever grateful for this experience and for my family and my host family."

About the Writer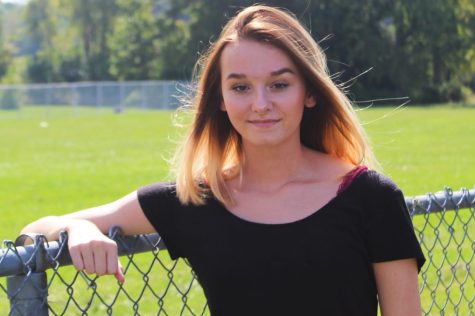 Cassie Horne, Reporter

Birthday: Dec. 18, 2002
Hobbies/Interests: Cheer, and hanging out with friends.
Favorite Quote: "That's always seemed so ridiculous to me,...