Juniors represent powder puff court well
Hang on for a minute...we're trying to find some more stories you might like.
The 2018 powder puff court is made up of four juniors.
The five boys representing the Junior Class are Connor Earegood, Ethan Livingston, and Gabriel Munoz, and Cole Zemore.
Connor Earegood
Connor Earegood is 16 years old.
His parents are Mr. John Earegood and Ms. Sarah Duke.
Earegood enjoys hockey analysis and statistics, engineering, robotics, trivia, and quiz bowl.
He is excited to be on court.
"I am ecstatic about being on court. In my AP Language and Composition class we all made a joke about voting for myself and I shrugged it off, thinking it would be silly," Earegood said. "When the announcements read my name, I couldn't believe it. This in an absolute honor and joy."
Earegood was escorted by his girlfriend junior Ali Walden at the pep assembly.
Ethan Livingston
Ethan Livingston is 16 years old.
His parents are Mr. and Mrs. Jason and Kristi Livingston.
Livingston plays baseball and football for KHS.
He feels proud to have been picked to be on court this year.
"I feel honored that my friends would choose me to represent the Junior Class," Livingston said.
Senior Julie Flahou escorted Livingston.
Gabrial Munoz
Gabrial Munoz is 16.
His parents are his mother Ms. Amanda Iccontz and stepfather Mr. Quentin Perea.
Munoz enjoys being social and playing basketball with his friends.
Munoz is excited to be on court, especially because Homecoming is his favorite part of the school year.
"I'm happy the class chose me. Homecoming is the best week of the year, and I'm glad I get to represent my class in front of all my friends," Munoz said.
Munoz was escorted by sophomore Alexus Ross.
Cole Zemore
Cole Zemore is 16 years old.
His parents are Mr. and Ms. Steve and Stephanie Zemore.
His hobbies include playing in the band, playing video games, and being a member of the KHS robotics team, the Hybrid Hornets.
His cousin, senior Alycia Machuk, escorted him at the pep assembly Monday, Oct. 1. He was shocked to hear he had been voted onto the court.
"I'm kind of surprised that I made court this year, but I was hoping to get it before the vote," Zemore said. "It's a really cool feeling, though."

About the Contributor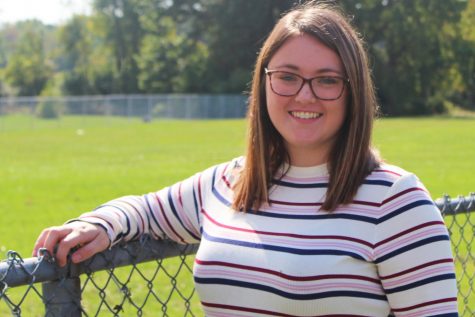 Autumn Prescott, Special Projects Editor

Birthday: Aug. 2, 2001
Hobbies/Interests: NHS, drama club, Freshman Mentors.
Favorite Quote: "Find out who you are and do it on purpose."...