Kanye West's "ye" captivates
Kanye West is one of the most controversial figures of the 21st century.
He is known for his experimental production and egotistical rapping, and he recently announced he was working on a new album in Jackson Hole, Wyo.
It was originally going to be called "LOVE EVERYONE," according to West's Twitter account, but it was released under the name "ye" on Friday, June 1.
The album art features a picture of a mountain range with the words "I hate being Bi-Polar its (sic) awesome."
The album opens with "I Thought About Killing You."
As West confesses, "Today I thought about killing you — premeditated murder — I think about killing myself and I love myself way more than I love you." The lyrics make me think he is using his audience as a therapist.
On "Yikes," West raps about his struggles with drugs and his public image.
They are standard topics for West, but the tone-deaf mentions of the #MeToo movement will remind you of his recent controversies.
In the outro, Kanye brings the theme of bipolar disorder in, calling his disorder a "superpower" before letting out a primal scream.
"All Mine" is a song about sex. It's not particularly interesting, but it doesn't overstay its welcome.
The track "Wouldn't Leave" has a great hook, and I could easily see it becoming a radio hit.
West, unfortunately, mentions his comments on slavery without really explaining them.
"No Mistakes" is a soulful song featuring Kid Cudi and Charlie Wilson singing on the chorus and a great Slick Rick sample.
It is the shortest song on the album but also one of the most appealing.
On the song "Ghost Town," West's verse is almost unnoticeable compared to his collaborators and his own production.
070 Shake's outro is great, despite its undertones of West's political mindset.
Freshman Matt Ostrander enjoyed the song for its uniqueness.
"070 Shake's part was great," Ostrander said. "It was different from Kanye's usual style. The song is like a good movie adaptation to a book I wouldn't read."
The production and beat work are the real stars of the album.
"Violent Crimes" sounds like West's 2010 album "My Beautiful Dark Twisted Fantasy" with its mystical lyrics and melodies.
West talks about how his perspective of women has changed, saying "I pray your body's draped more like mine — and not like your mommy's," referring to his daughter.
He is worried that his young daughter will one day be oversexualized by the public.
I believe that a good career move for West would be to take on a full-time producer role, but I know he will never do that.
I can look past West's personal life and controversial opinions to see the quality in his music.
I give "ye" a seven and a half out of 10 stars.
It was quality, but its short length left me wanting more.
About the Writer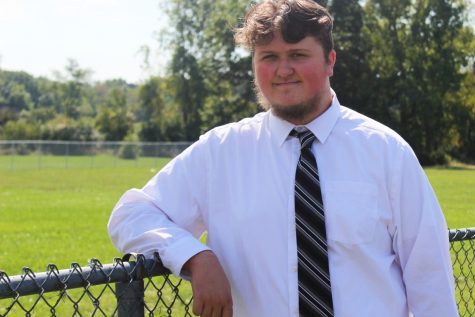 Grant Sterling, Reporter

Birthday: July 13, 2002
Hobbies/Interest: Music, film, books.
Favorite Quote: "Pictures must not be too picturesque." - Ralph Waldo Emerson
...