Claudia Moore finds happiness through song
Hang on for a minute...we're trying to find some more stories you might like.
Junior Claudia Moore gives off a simple kind of beauty.
Moore is tall, has an athletic build, and sports a long bob with blonde highlights. Her day-to-day look consists consists of a simple T-shirt, jeans, and sneakers, accompanied by her pearl necklace and simple look of mascara and highlighter.
While Moore can be seen laughing in and enjoying all of her classes, from AP Language and Composition to Chemistry, she finds the most joy in her choir class.
Choir, taught by Mrs. Renee Kotzian, offers Moore the opportunity to develop her musical abilities and expand her repertoire.
Moore appreciates the chance the class gives her to check out of reality for a bit and focus on music.
"I love choir because it's always been a huge stress reliever in my life," Moore said. "No matter how bad of a day I have, I always have an hour a day to just pour my heart and soul into singing. I could forget everything for a little while."
Moore not only participates in the choir class during the day, but commits her free time to preparing herself for Melody Makers and A Capella, two advanced singing courses offered at KHS.
She has spent nearly a decade in a variety of choir classes and plans on enjoying more musical instruction in the future.
"
Claudia is an exceptional musician.  She has a natural talent that she has worked hard to develop over the years I have had her as a student."
— Mrs. Renee Kotzian, choir teacher
"I have been in choir for almost nine years now and, hopefully, many more to come," Moore said.
Moore plans on furthering her career in music by studying and eventually working in a related field.
"I've thought of becoming a choir teacher and giving the gift I was bestowed to others," Moore said. " If not that, I want to minor in music therapy and pursue that."
Moore's dream of becoming a choir teacher has been greatly influenced by her own musical instructors.
"My previous choir teacher, (Mr.) Nate Degner, and my present choir teacher, (Mrs.) Renee Kotzian, inspire me," Moore said. "They are the ones who showed me my passion in life, and I couldn't thank them enough for that."
Kotzian, who has taught Moore for three years, recognizes Moore's talent in the classroom.
"Claudia is an exceptional musician.  She has a natural talent that she has worked hard to develop over the years I have had her as a student," Kotzian said. "She sight reads at a very high level and uses that skill to learn her music faster.  She is a natural leader and her love of music is obvious to everyone, and that adds an energy in the class."
Kotzian also supports Moore's hope of teaching music.
"I believe that she will make a great music teacher," Kotzian said. "I believe that Claudia is a young lady with great potential and the drive to be successful in any endeavor she chooses to pursue."
Fellow students also recognize the unique skills Moore brings to the class.
Mary Wheeler, junior, believes Moore improves the choir by adding her distinctive talent.
"She betters the group by adding her beautiful voice to the choir room and on stage every single day," Wheeler said.

About the Writer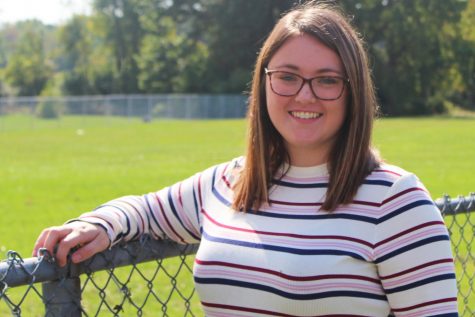 Autumn Prescott, Special Projects Editor

Birthday: Aug. 2, 2001
Hobbies/Interests: NHS, drama club, Freshman Mentors.
Favorite Quote: "Find out who you are and do it on purpose."...