Ruhstorfer will wrestle at Rochester College
Hang on for a minute...we're trying to find some more stories you might like.
Most student athletes dream of the day when they will be accepted into their favorite sport at college.
Senior Andy Ruhstorfer signed his National Letter of Intent on Thursday, April 26, to wrestle for Rochester College.
Ruhstorfer has been wrestling since he was just 3 years old but officially started competing when he was 4. He mostly was encouraged by his family and coach.
"I started wrestling because of my dad and older brother. They really encouraged me to get started," Ruhstorfer said. "My older brother was my role model during my career." 
Ruhstorfer also strives to be better than his brother at everything, so he felt that in taking on a sport they both liked, he could accomplish that.
Ruhstorfer stated that he chose Rochester because of the benefits that the school provided.
"It's not too far away from my family and girlfriend, which is very convenient," Ruhstorfer said. "I'm also getting a lot of scholarship money to attend there, so it's the cheapest option as well."
Ruhstorfer thought his signing went well and was pleased with the people that came.
"I thought my signing went great," Ruhstorfer said. "I'm very happy I chose to sign with Rochester."
Mr. Tom Ruhstorfer, Andy's father, couldn't be more proud of his son for his accomplishments during his wrestling career. 
"I'm very proud of Andy for putting his mind on something and going for it. There is nothing better for anyone than to achieve the goal you set for yourself," Mr. Ruhstorfer said. "I'm excited to see him go away for college and become a part of the real world. I can't wait to see what kind of man he will become."
While wrestling, Ruhstorfer has won many titles and competed in many matches and tournaments.
Ruhstorfer is a four-time Flint Metro League wrestler as well as a three-time league champion.
"
I'm very excited to start my wrestling career in college, and I cant wait to see where the future takes me."
— Andy Ruhstorfer, senior
He has also qualified for the state final all four years of his high school career, earned first team All-State honors and helped lead Kearsley wrestling to three MHSAA district championships.
Ruhstorfer also won two Flint Metro League team championships and an MHSAA regional championship during his career.
Ruhstorfer finished his high school wrestling career with a record of 187-27.
"I'm very excited to start my wrestling career in college, and I cant wait to see where the future takes me," Ruhstorfer said.

About the Writer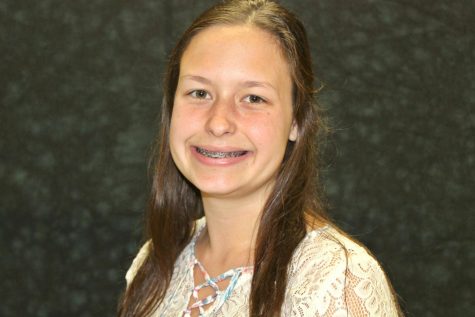 Morgan Brode, Reporter

Birthday: October 26, 1999
Extracurricular: Bowling
Hobbies: Coloring in stress-free coloring books.
Plans after high school: Attend college...