The Hornets were back on their home field at Kearsley High School as they faced Bay City Central coming back better than ever! 
Junior, #11, Jaxon Palmer talks about the practices leading up to this moment, "The long practices have helped us with the discipline and we were able to get a lot of work in. In the six-hour practices it's just a lot of time to do a lot of different things."
The Hornets put in 110% on the KHS field, it took a team on this night. 
#21, senior, Kasen Johnson put in a lot of hard work along with his other teammates, and it really showed on the field.  The Crowd went wild as Johnson plowed through the herd of Bay City Central players for a Hornet touchdown!
"It felt amazing in the moment, I was just super excited and happy to put my team ahead of Bay City even further and the moment was just all around great. It feels great and I was really proud of myself for putting in the effort to take my team to victory along with all my teammates. It all started with weeks of practice," explained Johnson.
As the boys took home the win the sideline cheerleaders were right by their side encouraging the whole team.
Sophomore, Lydia Morin has been on varsity for two years and finds great interest in this sport.  She explains, "when we win there is a lot of adrenaline and I'm super excited and hoping we continue to win. My favorite cheer is rowdy, and it's fun being on the sideline cause we get to interact with the student section and watch the game."
The cheerleaders performed many cheers and stunts including; Fire Up, Rowdy, and band cheers like the Kearsley Fight Song and Eat Them Up.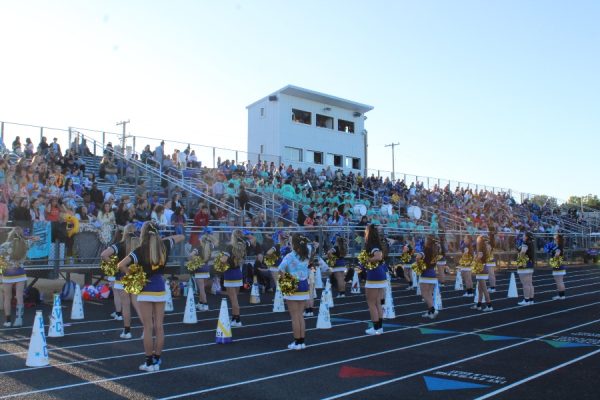 The band joins along with the victory fun! The band is loud and ready to go with new skilled members, the band kept the energy up the whole night.
Freshman, Ciara Teller, plays the clarinet.  She says, "being in marching band for the first year as a freshman was nerve-racking, but marching and hyping up the boys playing the fight song is very exciting."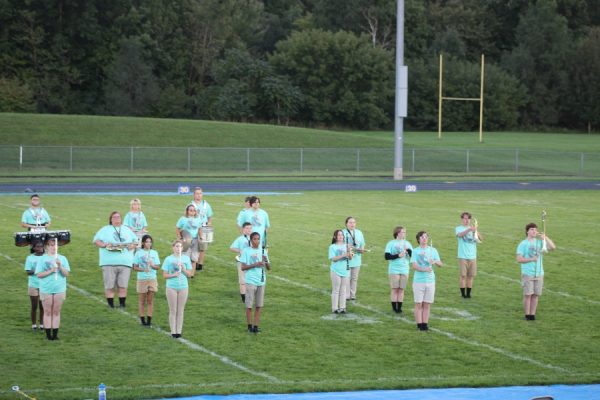 All three of these amazing talented groups have spent hours of hard work on these accomplishments. This game represented Kearsley High School in a great way! It was a great night to be a Hornet!