2023 Kearsley Girls' Tennis
The Kearsley girls' tennis team has been anticipating playing in their first match.
Sadly the first match was cancelled due to weather issues.
Luckily, the girls got even more practice in and are ready.
The head coach, Mrs. Fisher, also Kearsley's elementary school principal, was very excited to talk about her team and their dedication.
"I believe that these girls have put in lots of cold, hard work to try and prepare as much as possible for the season and they want to get out there and play this first match," expressed Fisher.
I talked to some players to see how they were mentally and physically preparing.
Sophomore, Lula White told me her routines for tennis.
"I have been taking practice very seriously and I try to get in other home exercises afterwards and days that practices are canceled so I can continue to get better," explained White.
Other players told me their goals and hopes for this season.
Freshman, Emma Sellers talks about her goals for this year.
"I would really like to be on varsity this year and I am excited to play a match for the first time in a competition, but also very nervous," joked Sellers.
Many of the girls on the team all had a similar goal of making it onto varsity or they want to be confident enough to do singles matches.
The assistant coach, Mr. Fisher, talked to the girls about what they needed to do to be successful this season and what he expects out of them.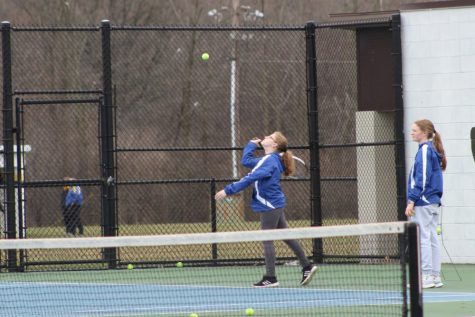 "You guys have worked persistently even in this weather that we've had and I appreciate the dedication you guys have shown to this sport. We have a week until your first match and i believe all of you will do your best and make Kearlsey proud, but most importantly I want to see you growing and not just out there hitting a ball for no reason. We will continue to work hard no matter if you win or lose and we will continue to move forward in this sport," said Fisher.
I talked to some Varsity players who have been on the team almost all of their high school experience to see how they feel on this year's team and work ethic.
Senior, Victoria Griffith says her input, "I believe we have a good team this year, many people came back which is always good and we have about the same number as last year so I am excited for the season."
Junior, Tapanga Thorne also had some thoughts on this year's team. "I believe we have a really good team this year and I am excited to do singles this year and try my best at it while continuously pushing forward. The team overall has been well and even the new freshmen have been practicing amazing."
Seeing the girls on the team work hard at practices and pay attention to every detail they are taught, shows just how much they want to win and strive for more opportunities on the tennis court.