'Dirty Computer' by Janelle Monáe is lively
Hang on for a minute...we're trying to find some more stories you might like.
Janelle Monáe is an experimental R&B artist who released her first album in 2010 to critical acclaim.
She has been lauded for pushing the boundaries of pop music with an adventurous view of love and sexuality.
She gained quite a lot of attention earlier this year at the Grammys, giving a rousing speech for the #MeToo movement.
She released "Dirty Computer" on Thursday, April 27.
It opens with a short intro called "Dirty Computer," featuring legendary Beach Boy Brian Wilson providing harmonies. It is similar to the first track on Kanye West's "My Beautiful Dark Twisted Fantasy."
"Crazy, Classic, Life" sets the tone with synthesizers and Monáe's neo-soul vocals.
The track "Take A Byte" sounds like it takes influence from British new wave bands like A Flock of Seagulls and Duran Duran.
Sex is a major theme on the album, especially on the song "Screwed."
In this song, she makes clear that she isn't opposed to using her sexuality to control people.
Monáe raps about her public image on the single "Django Jane."
"Remember when they used to say I look too mannish — Black girl magic, y'all can't stand it — Y'all can't ban it, made out like a bandit," Monáe sings.
"Pynk" shows Monáe's abilities in the pop genre. The hooks are extraordinary on this track.
The best song on the album is "Make Me Feel."
The song's straightforward sexuality goes well with the extremely Prince-influenced instrumental.
On the track "So Afraid," Monáe admits her own insecurities.
Monáe sings, "And I'm afraid — Ah, I'm so afraid — Ah, what if I lose? — Is what I think to myself –I'm fine in my shell."
This self-deprecation is also very Kanye-esque. She has worn her influences on her sleeve throughout her entire career.
The final track, "Americans," is a culmination of every theme on the album: sex, politics, and gender.
The topics are mixed together over a bouncy synthesizer beat.
Monáe sings, "Die in church, live in jail — Say her name, twice in hell — Uncle Sam kissed a man — Jim Crow Jesus rose again."
The album was an interesting, fun, and thought-provoking ride.
I give the album a respectable seven and a half stars out of 10.

About the Writer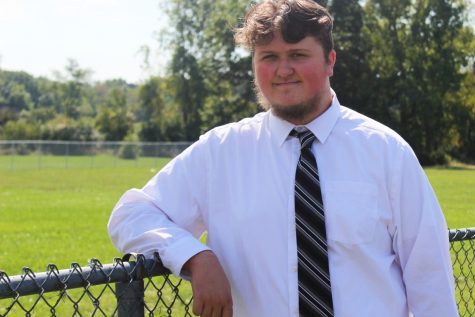 Grant Sterling, Reporter

Birthday: July 13, 2002
Hobbies/Interest: Music, film, books.
Favorite Quote: "Pictures must not be too picturesque." - Ralph Waldo Emerson
...