Blond finishes state runner-up, Hawes makes final four
Hang on for a minute...we're trying to find some more stories you might like.
The day after winning the team state championship in girls bowling, sophomore Imari Blond finished runner-up at the MHSAA Division 2 singles final, Saturday, March 3.
In the final match, Blond, who qualified as the No. 1 seed, went head-to-head with senior Sydney Urben, the No. 3 seed from Wayland, but fell short 409-356.
"I'm a little disappointed in the way I performed because I was capable of doing better," Blond said.
Senior Barbara Hawes moved out of the qualifying block as the No. 2 seed.
Hawes had to fight for a spot in the match play round against her own teammate, junior Alexis Roof.
Roof qualified as the No. 14 seed and said it can be difficult competing against a teammate.
"But you also have to treat them as just another oppontent," Roof said. "The parents usually don't cheer for either because it doesn't seem right."
When it came down to it, Hawes beat Roof 433-415, which advanced Hawes but knocked out Roof.
In the quarterfinal, Hawes competed against a junior from Dearborn Heights Annapolis, Emily Gurin.
Hawes won the quarterfinal too, 414-384, and moved to the semifinal.
While Hawes was moving up, so was Blond.
In the first round of match play, Blond beat junior Jordyn Carroll from New Boston Huron in a close game, 373-370.
Then Blond moved on to the quarterfinal to compete against Shayleen Helf, a junior from Adrian, and defeated her 426-365.
When it came to the semifinals, the Hornets had two teammates in opposite brackets of the final four.
"
I think making it to the top four gave me a sense of relief."
— Barbara Hawes, senior
Blond made it through to the final when she beat senior Danielle McComb from New Boston Huron 386-343.
But Hawes fell just short in the semifinal against Urben, losing by seven pins 366-359.
"I think making it to the top four gave me a sense of relief," Hawes said. "I missed the first team All-State by one point last year, and I think part of my drive was trying to get it this year."
This meant it was Blond's turn to take on Urben.
Blond lost the first game 225-171 and just squeaked past Urben in the second 185-184.
In the end, Blond lost total pinfall to Urben 409-356 and finished as the singles state runner-up.
"She shot 225 on me and had over 50 pins on me," Blond said. "I had the wrong ball in my hands and couldn't get a spare."
Although Blond didn't come out on top, she got much farther into the tournament than last year.
In the 2017 state final, Blond was also the No. 1 seed after qualifying into match play and made it into the top eight, losing in the quarterfinals.
Blond is content with being runner-up, and it helps knowing that she has two more seasons to go after the singles title.
"Although I do tournaments and other things outside of high school, I still get nervous in match play," Blond said. "But you can't win all the time, and I have many years to go."
"
I was happy to get as far as I did with my sister by my side."
— Imari Blond, sophomore
Bowling runs in Blond's family, her sister, Quinisha Burnett, is the assistant coach on the bowling team.
"I was happy to get as far as I did with my sister by my side," Blond said.
Two other Hornets qualified for the state final but did not make it past the qualifying round.
Senior Karlee Griffin finished tied for 33rd. Her best game was her last — a 216.
In addition, senior Emma Boychuck threw a high game of 192. She placed 40th.

About the Writer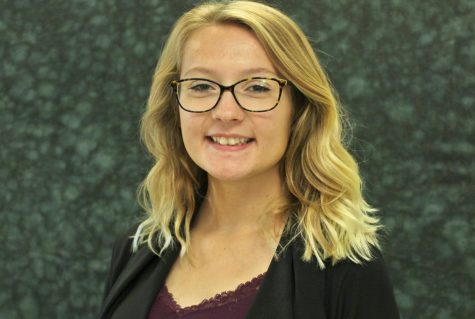 Hannah Hendley, Photography Editor

Birthday: February 7, 2000
Extracurricular activities: Tennis, dance, and float building.
Hobbies: Eating, reading, and drawing.
Plans after...