Harry Potter corn maze amazes all ages
Hang on for a minute...we're trying to find some more stories you might like.
Are you a bored muggle looking for magical entertainment?
Look no further, for LJs' Farm Market has a Harry Potter themed corn maze that transports participants to the Hogwarts School of Witchcraft and Wizardry.
LJs' Farm Market is located at 1545 Millville Road in Lapeer.
The maze is open until Halloween  and the hours are as follows: Monday to Thursday from noon to 7 p.m., Friday from noon to 10 p.m, Saturday from 10 a.m. to 10 p.m., and Sunday from 10 a.m. to 9 p.m.
Maze-goers have the option of completing the maze in the daylight or bringing flashlights and completing the maze at night.
When you first arrive there is a wizard's log that burns for an hour and a half without stopping, and there are life-size cutouts of characters —  Dumbledore, Ron Weasley, Harry Potter, Hermione Granger, Hagrid, and Dobby — that participants can put their faces into for photograpahs.
There is also a wall displaying the four Hogwart's Houses: Gryffindor, Slytherin, Hufflepuff, and Ravenclaw.
Maze-goers meet with a wizard who provides a golden ticket for The Hogs Maze Express on Platform 9 and 3/4. The ticket has seven different shapes surrounding the edges for hole punches. You must find all seven of the horcruxes spread throughout the maze and punch the designated shape each time one is found.
Each horcrux is set up at a station with an object representing it, and there is a stand with a hole punch of a specific shape attached to mark your ticket.
Also scattered throughout the maze are the three Deathly Hallows. To enter for a chance to win a Harry Potter wand you must find all seven horcruxes and fill out a card identifying the Deathly Hallows. A winner is chosen each day.
Throughout the maze there are areas such as Hagrid's house that have backdrops perfect to pose for pictures with friends. There is music from the movie playing in the center of the maze to help you to know where you are.
Completing the maze at night is a harder challenge because it's much harder to see through or over the corn to locate the horcruxes, but the extra challenge of the darkness adds a spooky and exciting element as maze-goers race to complete the mission.
Junior Audri Counelis went to LJs' Farm Market Harry Potter Maze after dark and thought the maze was difficult, but she also said it was a fun time with friends.
"We went into the maze around 7 p.m. and didn't get out until a little before 10 p.m.," Counelis said. "We didn't have the best sense of direction, but we still had a ton of fun."
Counelis believes that the maze is a great way to bring out your inner nerd in an interactive way and encourages others to take on the magical challenge while they can.
"My friends and I love Harry Potter, so it was exciting to see the books and movies brought to life," Counelis said. "The maze is only open for a little while longer, so I'd definitely recommend going and enjoying the maze and all the details put into it."
About the Contributors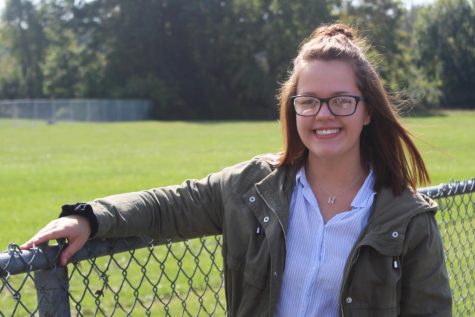 Jenna Robinson, Editor in Chief

Birthday: Oct. 26, 2000
Hobbies/Interest: Playing electric, acoustic, and bass guitar, as well as ukulele. I also enjoy drawing, reading, writing,...