Trade Wars: Rick Nash deal caused NHL-wide ripples
Without sports to occupy my time, I've started researching the future roster of my beloved Detroit Red Wings. In doing so, I found a rabbit hole spanning eight years and 20 teams.
The 2012 NHL trade that sent Columbus Blue Jacket winger Rick Nash to the New York Rangers in exchange for forwards Brandon Dubinsky and Artem Anisimov undoubtedly altered the course of hockey history.
The Original Deal
As the late July doldrums set in across the hockey world, the Blue Jackets and Rangers sent shockwaves with a blockbuster deal to send Nash to the Big Apple. Accompanying him were minor league forward Steve Delisle and a 2013 third round pick.
That pick just so happened to turn into forward Pavel Buchnevich.
What a deal for the Rangers.
On the other side of the table, Columbus picked up two young and skillful forwards in Dubinsky and Anisimov, as well as fringe depth defenseman Tim Erixon and a 2013 first round pick.
With that pick, the Jackets picked up winger Kerby Rychel at 19th overall. Rychel ended up being moved around throughout his career and never amounted to much success at the NHL level.
To show how much of a bust that pick was, I'll point out that one pick later, the Winged Wheel drafted winger Anthony Mantha out of the QMJHL, a goal-scoring weapon who's played in 260 games and tallied 173 points.
All-in-all, the original trade remains a good old-fashioned hockey trade that helped two clubs build success.
That being said, the Rangers won this trade running away. Nash played a key role in getting the Rangers to the 2014 Stanley Cup Final and Buchnevich will have a lengthy career with the Broadway Blueshirts.
The Saad Trade (The First One)
While Anisimov played well for the Jackets, they simply couldn't pass up a June 2015 trade with the Chicago Blackhawks.
The Jackets picked up top-six forward Brandon Saad and two prospects for Anisimov, Marko Dano, Jeremy Morin, Corey Tropp, and a 2016 fourth-rounder. That pick was flipped to the New York Islanders, but neither pick shows much promise to play in the NHL.
Dano never blossomed into his first-round hype and Morin was flipped to the Toronto Maple Leafs for winger Richard Panik, a solid two-way player who averages more than a half point per game.
Anisimov has played almost 300 games for the Blackhawks with 155 points to show for it.
And with the deal, the Jackets picked up a long-term solution to the unfilled hole that trading Nash had left in their top six.
Except they moved him.
The Saad Trade (The Second One)
With their playoff dominance crumbling, the Blackhawks needed to rebound quickly to keep up with the rapidly advancing game.
General Manager Stan Bowman (son of legendary bench boss Scotty Bowman, coach of three Stanley Cup-winning Detroit teams) decided to reunite the players featured on the 2010, 2013, and 2015 Stanley Cup-winning teams, and that included Saad.
On draft day in 2017, Chicago sent Calder-winning winger Artemi Panarin, forward Tyler Motte, and a sixth-rounder in the 2017 draft to Columbus in exchange for Saad and fringe backup goaltender Anton Forsberg.
And the Hawks got fleeced!
Now normally, we at The Eclipse follow AP style and refrain from using exclamation marks, but this is an instance worthy of breaking that rule.
Panarin contributed 169 points to the Jackets in 160 games and helped turn the team into a consistent playoff contender, one that upset the record-tying, 62-win Tampa Bay Lightning in a first-round playoff sweep last season.
Saad has scored 115 points in 220 games on a Blackhawks team that can't seem to decide whether it wants to tank or contend.
The other players were flipped for playoff rentals and draft picks, although Chicago sent Forsberg to the Carolina Hurricanes alongside Gustav Forsling in order to get veteran defenseman Calvin de Haan.
It's hard to argue that Columbus' secondary trades didn't give them the victory in this trade war.
The Empire (State) Strikes Back
In April 2013, the Rangers geared up for a playoff run by packaging star winger Marian Gaborik, Steve Delisle of the Nash trade, and prospect Blake Parlett in exchange for forward Derick Brassard, enforcer Derek Dorsett, and blueliner John Moore.
Brassard put up 174 points in 254 regular season games for the Blueshirts, then added 44 points in 59 playoff games.
Moore and Dorsett were role players in the Rangers' playoff successes, and Moore even played 125 games for the Rangers before being shipped to the desert.
In 2016, the Rangers picked up the rights to restricted free agent defenseman and NHL All-Star Keith Yandle for Moore, prospect Anthony Duclair, and a 2016 first-round draft pick. Duclair would later be shipped to Chicago for Panik.
Detroit would pick up that draft pick, as well as a 2016 second-rounder and the injured Joe Vitale in exchange for the Red Wings' first-rounder in that draft and the contract of Pavel Datstyuk, who had retired that season but remained on the payroll.
The Coyotes used that first to pick up blueline stud Jacob Chychrun, who has 80 points in more than 250 games, while Detroit picked up fringe defenseman Dennis Cholowski with the first-rounder and defenseman Filip Hronek with the second-rounder.
All three players seem to be pivotal pieces in their teams' futures.
New York Sheds Brassard
Brassard found himself traded alongside a seventh-round pick in 2018 to Ottawa before the 2016-17 season in exchange for star forward Mika Zibanejad and a 2018 second-rounder.
Detroit would pick up that 2018 second when the Wings sent defenseman Brendan Smith to the City that Never Sleeps at the 2017 trade deadline.
Every team benefited from the move.
Brassard was traded from Ottawa to Pittsburgh when the Senators put up an abysmal season in 2017-18. The Sens picked up an AHL prospect, defenseman Ian Cole, a 2018 first-rounder, and a 2019 third-rounder.
Cole was flipped for a 2020 third-rounder, while that first-rounder was sent back to Broadway for a first-rounder and a second-rounder in the 2018 draft.
With that pick, the Rangers picked up K'Andre Miller, a talented defenseman who shows serious promise to make the opening night roster next season.
The Vegas Golden Knights also involved themselves in the trade, making it a three-way deal. Physical intimidator Ryan Reaves joined the Golden Knights for a captivating run to the 2018 Stanley Cup Final. Tobias Lindberg entered the Pittsburgh organization.
Brassard Moves . . . Again
As the 2019 trade freeze approached, the Pens sent Brassard to Florida alongside bottom-six scorer Riley Sheahan (a former Red Wing) and a handful of draft picks. The 'Burgh gained young forward Jared McCann and veteran Nick Bjugstad to gear up for the playoffs.
However, the Pens choked against the New York Islanders and fell victim to a first-round sweep in the 2019 playoffs.
On February 25, 2019, Florida shipped Brassard to Colorado for a third-rounder in this year's draft.
Tying Up Loose Ends
Before the 2018 playoffs, the struggling rangers rented Nash to the Boston Bruins in exchange for a first-rounder in the 2018 draft, a 2019 seventh, and prospects Ryan Spooner, Matt Beleskey, and Ryan Lindgren. That pick was the same one sent to Ottawa for the K'Andre Miller pick.
Spooner found himself traded to the Edmonton Oilers for young forward Ryan Strome, who has 92 points in 133 games with the Rangers.
Edmonton traded Spooner one-for-one with the Vancouver Canucks for veteran Sam Gagner.
Sam Gagner was traded with second-rounders in the next two drafts for Detroit's speedy forward Andreas Athanasiou and prospect bottom-sixer Ryan Kuffner.
The Nash trade caused even more minor trades that I won't detail here. The original deal undoubtedly shaped the rosters and prospect pools of all teams involved, and it will likely impact the NHL for years to come as prospects and picks are traded, mature, or turn into busts.
Leave a Comment
About the Contributor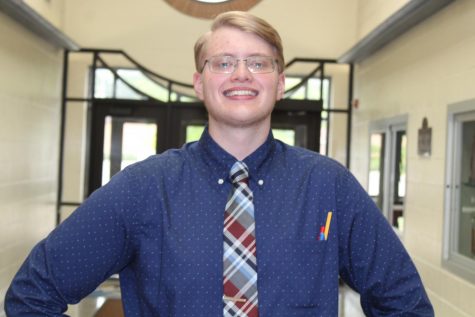 Connor Earegood, Editor in Chief
Class: Senior

Hobbies: I participate in quiz bowl, chess, robotics, Future Problem Solving, and many other "nerd sports."

Future Plans: I plan to...