Seniors give four tips to relieve everyday anxiety
Hang on for a minute...we're trying to find some more stories you might like.
Everyone experiences anxiety from time to time and some do more than others.
Those who struggle with anxiety may feel like there is no hope, but there are ways to cope.
Here are four tips to help ease anxious feelings.
Essential oils
Essential oils are used for many different things, one of these being anxiety.
Lavender is most commonly used for short-term anxiety relief.
Essential oils are usually applied through a dropper and should be placed on the skin.
The smell of the lavender will leave you feeling relaxed and calm.
Senior Madi Van Hamlin uses essential oils as a coping method for her anxiety.
"I've had anxiety my whole life, and I spent years trying to find a way to cope," Van Hamlin said. "Finally, I found essential oils and they have helped me tremendously. They remind me to breathe and keep calm."
Take time for yourself
Spending time with those you love is important but can also be overwhelming.
"
I have realized over the years the only person who can make things better for myself is me."
— Lilly Stoutenberg, senior
Taking time for yourself is essential in relieving stress and anxiety.
Depending on others to keep you happy is unhealthy and shouldn't be done.
You must fight your own battles.
Senior Lilly Stoutenberg doesn't like to depend on anyone but herself.
"I am my own enemy and hero," Stoutenberg said. "I have realized over the years the only person who can make things better for myself is me."
Realize this is temporary
When experiencing anxiety, it may feel like your stress will never end. But that isn't the case.
You will eventually be able to relax.
Realizing this feeling won't last forever will help you to calm yourself down.
Try finding ways to distract yourself,  like writing in a journal or reading a book.
Senior Rachel Miller uses bowling as a way to distract herself from the pain.
"Bowling helps me cope when I am anxious and stressed," Miller said. "When I bowl, all my problems outside of the alley disappear."
Live a healthy lifestyle
Eating a mixture of healthy foods with a combination of exercise can help reduce anxiety and stress.
Foods like fruits, nuts, and lean meats are just some of the foods you should include in your diet.
Whatever you fill your body with will translate into your mood and emotions.
"
When I eat clean and exercise, I truly feel better."
— Gracie Garfi-Sharber, senior
Keeping a healthy lifestyle will benefit you in the long run.
Senior Gracie Garfi-Sharber realizes a healthy lifestyle is a must-have for happiness.
"When I eat clean and exercise, I truly feel better," Garfi-Sharber said. "My mind and body feel refreshed and energized when I pay attention to what I am putting in my body. The two go hand in hand."

About the Contributor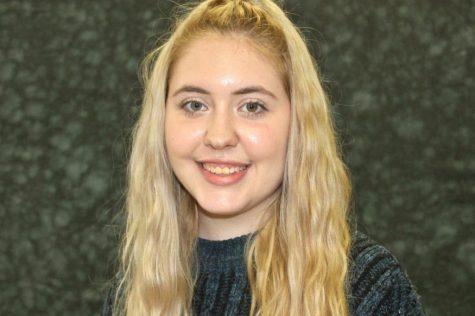 Jessica Rathburn, Reporter

Birthday: November 29, 1999
Extracurricular activities: A cappella choir
Hobbies: Traveling, watching movies, and shopping.
Plans after high...