Clark's chameleon adds color to her life
Hang on for a minute...we're trying to find some more stories you might like.
Pets don't always have to be furry and soft, sometimes they can have color-changing skin like junior Chloe Clark's chameleon, Rango.
Rango is a veiled chameleon who got his name from the 2011 film "Rango," a movie starring Johnny Depp as a chameleon.
Clark liked this movie and thought the name would be fitting for her new, scaly friend.
Clark bought Rango from Magoo's Pet Outlet, a pet supply store located on Center Road in Flint.
What most people feed their pet is different than what it's like to feed Rango. Clark said Rango's diet consists of different insects.
"He (Rango) eats mostly crickets, the occasional meal worm, or any ladybug that might happen to fly into his cage," Clark said.
Rango lives in a decently-sized mesh cage, one of the necessities for owning a chameleon.
Clark describes Rango as "really funny," but he isn't fond of other people, or even Clark herself, holding him.
Clark thinks Rango is unique, but a chameleon shouldn't be a pet to get without planning and preparation.
"He's really neat and I love him to death, but they're (chameleons) not easy to care for," Clark said. "They need a very specific and expensive type of cage and wood chips. They have a water dropper that needs to be refilled twice a day, and their cage needs to be watered by spraying twice a day."
Clark said that Rango requires a nightlight and a daylight and they need a special light bulb that provides Ultraviolet-B, or UVB.
According to Reptiles Magazine, the UVB light is to make sure that the chameleon is absorbing the proper amount of calcium in order to avoid metabolic bone disease and other conditions since the chameleons are in captivity without access to natural sunlight.
Rango is an average size for his breed, although smaller than most people would think.
"He's smaller than most people would think chameleons are, but he's actually average sized," Clark said, "and he's about a year old."
Originality is never hard for Rango as his skin changes color depending on a multitude of causes, such as his mood or surroundings.
"When he is very stressed and angry he turns a dark color," Clark said. "He will also turn different colors to blend into his environment."
Chameleons are known for their color-changing skin and spunky personalities. Rango demonstrates these characteristics without fail and continues to bring joy — and some comedy of course — to Clark's life.
About the Contributors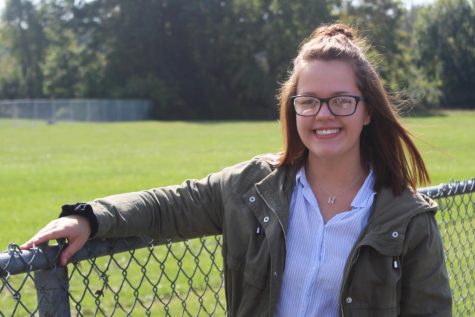 Jenna Robinson, Editor in Chief

Birthday: Oct. 26, 2000
Hobbies/Interest: Playing electric, acoustic, and bass guitar, as well as ukulele. I also enjoy drawing, reading, writing,...