Michigan offers great places to visit
Hang on for a minute...we're trying to find some more stories you might like.
The Mitten State is home to many different cultures and people, which makes it a great place to have an adventure. From Marquette all the way down to Hillsdale, there are countless places to explore.
Mackinac Island
Mackinac Island is a great place for people looking for adventure and history in their vacation.
The island offers carriage tours where you can relax in a horse-drawn carriage and listen to a tour guide offer interesting facts about the history of the island.
Tours start in the middle of the shopping district and take you through town and up old trails through the forest. You can stop at Surrey Hills Museum, the Wings of Mackinac Butterfly Conservatory, and Arch Rock.
Sophomore Stephen White has been to the island only a handful of times, but the trips made an impact.
"It was a really cool place to visit," White said. "There are no cars or construction vehicles, so everything is old. It's like a time machine to the past."
Many tourists enjoy seeing the Grand Hotel, which was opened in 1887 as a summer retreat for vacationers. The hotel offers activities like horseback riding and lawn games, and it enforces a dress code for guests.
The island has undergone extensive historical preservation and restoration to keep its unique charm.
Frankenmuth
Frankenmuth is a city popular for it's Bavarian style. It offers shopping spots like Bronners CHRISTmas Wonderland and Frankenmuth Clock Company.
Visitors can spend hours searching for the perfect Christmas ornament and an ornate grandfather clock, then head on down to River Place shops for cute boutiques and unique candy stores.
The city hosts many seasonal festivals and events, including the Bavarian Easter Celebration, Balloons over Bavarian Inn, and the Holiday Celebration & Candlewalk.
Sophomore Stephanie Lane enjoys going to Frankenmuth during the holidays.
"I like walking around and seeing all the lights," Lane said.
The city also offers many different restaurants and food specialties. Chicken is a specialty of the city and many people come to Frankenmuth to have an iconic chicken dinner at Zehnder's.
Visitors can also dine at Tiffany's (even if it's not for breakfast) or stop in at one of the many cafes.
Detroit
Detroit is known for its participation in the automobile industry in the early 1900s. Ford became a popular company in the Motor City. In addition, Chrysler, General Motors, and Packard helped increase the automobile industry's popularity.
The city is also home to many beloved sports teams, including the Detroit Tigers.
In 1901 the Detroit Tigers played their first season in the American League. Since then, the team has wowed fans with great players like Ty Cobb, Al Kaline, Hank Greenburg, Alan Trammell, and, currently, Miguel Cabrera and Justin Verlander. The Tigers have also won four World Series championships.
In the fall, Detroit showcases the Lions in the National Football League. In addition, the Pistons and Red Wings will play basketball and hockey, respectively, downtown in the new Little Caesars Arena, which is slated to open this year.
Sophomore Madison Burroughs enjoys the athletic atmosphere of downtown Detroit.
"I like seeing all the sports stadiums when I'm down there," Burroughs said. "Comerica Park is, by far, my favorite thing there."
Now, Detroit is still a big center of business and employs thousands of people.
Kearsley alumna Samantha Miller has worked in Detroit for five years as a foreclosure associate at Quicken Loans.
"Working in Detroit is a great experience because it's a growing city," Miller said.  "I'm happy to be able to work in such a unique city."

About the Contributor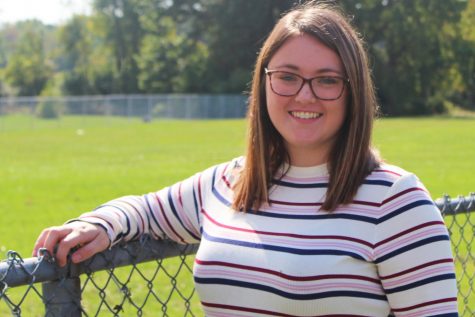 Autumn Prescott, Special Projects Editor

Birthday: Aug. 2, 2001
Hobbies/Interests: NHS, drama club, Freshman Mentors.
Favorite Quote: "Find out who you are and do it on purpose."...