Student hits deer, reminding drivers to be cautious on the road
Hang on for a minute...we're trying to find some more stories you might like.
Cruising down the cross way of Richfield and Belsay roads, Cameron Brown, sophomore, recalls the deer running right in front of his Buick before he was able to stop.
He crashed into the deer at 45 mph on Nov. 1, totaling his vehicle. His uncle, a tow truck driver, hauled his car away.
Brown said he felt "sore" after the accident.
Experts say driving safely is important as deer season is underway and more deer are on the move.
According to the American Automobile Association of Michigan, deer were directly or indirectly responsible for about 60,000 car accidents last year in Michigan.
The Michigan State Police advise just hitting the deer if you cannot slow down safely.
Mr. Andy Nester, driver's training instructor, said that drivers should be cautious and follow the regular rules of the road during deer season.
"Drivers should follow the speed limit and have awareness as they drive, especially in rural areas around dusk because deer move more at this time," Nester said.
"
"If you spot a deer, you should slow down because deer travel in packs and odds are more will follow the first one."
— Mr. Andy Nester
According to carinsurance.com, Michigan ranked eighth in the nation with the most deer-related accidents in the most recent numbers.
In 2015-16, the likelihood of collision with a deer was one in 85, a 14 percent increase from the previous year.
West Virginia rated first with a likelihood of one in 41, a seven percent increase from the previous year. Following West Virginia is Montana, then Pennsylvania.
Mrs. Cindy Sierra, English teacher, said hitting a deer was scary for her and her family.
"My husband, daughter, granddaughter, and I were on our way to New York City," Sierra said. "I felt the impact on the car, feeling myself thrown against the seat belt.
"I looked up and saw deer skin in the windshield on the driver's side, imagining for a moment that it would come through or at least crack the glass. Just as instantly, though, I saw the deer spin off back to the left on the highway, clearly dead."
Even though a typical whitetail deer in Michigan weighs around 200 pounds and a typical car weighs over 3,000 pounds, Sierra recalled how shocking it was that a deer caused so much damage to such a large vehicle.
"Clearly the results for the deer were the worst," Sierra said. "However, this animal that was so much smaller than our Terrain had left a lot of damage."
The image for this story is from flickr.
About the Contributors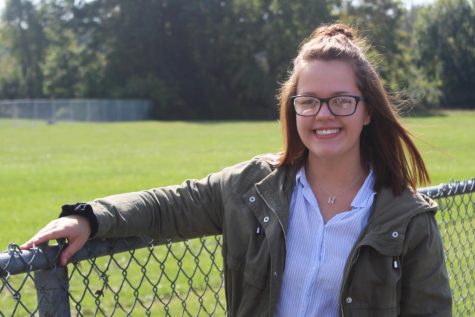 Jenna Robinson, Editor in Chief

Birthday: Oct. 26, 2000
Hobbies/Interest: Playing electric, acoustic, and bass guitar, as well as ukulele. I also enjoy drawing, reading, writing,...