Fall into fashion with a cozy, comfortable wardrobe
Hang on for a minute...we're trying to find some more stories you might like.
During fall it can be hard to dress for the chilly weather while still looking stylish.
Of course, it's important to be warm and comfortable.
But how do you do both and still look your best?
Here are a few must-haves for your fall wardrobe.
Vests
Puffer vests are at the top of the list when it comes to fall fashion.
They're easy to pair with a simple, long-sleeved top and a pair of jeans and are sure to keep you warm while showing off your shirt underneath.
Puffer vests look great on both men and women.
They're perfect for those Michigan days when you just never know how the weather's going to be that day and you don't really feel like putting on a big jacket but you still want to be warm.
For women, the vests give off a sleek and chic vibe because they give the appearance of looking slimmer.
For men they show off that masculine outdoors look.
I've found women's vests in just about every clothing store, but Calvin Klein has really nice quality ones in my opinion.
Plaid Scarfs
Not only are scarfs cozy and warm, they're also a cute addition to your outfit.
They come in all different shapes and colors. Red and nude plaid infinity scarfs are the most popular.
Since scarfs are gender neutral, you could wear just about anything with them.
The best part about scarfs is that they are so trendy they can be found in just about any store, too.
I like to pull my hair back when I'm wearing a scarf because I feel like they can really emphasize my face, and I won't get too hot from my hair and the scarf.
Turtlenecks
That's right. A slim-fitting turtleneck is sure to keep your outfit looking slick and stylish.
Want to try it out but not sure how? Tie your hair back, girl, and pair a turtleneck with skinny jeans or even a high-waisted, A-line skirt.
Turtlenecks have always gotten a bad rep. Previously called "boring" and "unflattering," they are now known as making you look "sophisticated" and "polished."
Young girls today have taken styles from the '70s and '90s and proved that the turtleneck is definitely still trendy.
I've found cute, high collared tops at clothing stores like Forever21, Calvin Klein, and Banana Republic.
Flannels
Try pairing a flannel with an A-line mini skirt, tights, and a pair of booties.
Nothing screams fall time more than a flannel.
They're cute, casual, and warm with their thick, cozy material.
Good quality flannels can be found at Forever21, Old Navy, or H&M.
Adding your favorite band T-shirt and any kind of denim will give you a casual, edgy look.
Booties
Booties are a wonderful alternative when you're just not ready to pull out the winter boots.
They're always perfect for whatever outfit your heart desires.
Wearing jeans? Roll up the ankles to expose your cute booties.
Dressing up? Pair them with some black tights.
Just remember, don't be afraid to try new things and be adventurous with your wardrobe.
Create your own style.

About the Contributor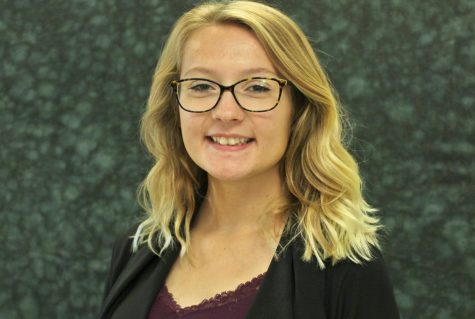 Hannah Hendley, Photography Editor

Birthday: February 7, 2000
Extracurricular activities: Tennis, dance, and float building.
Hobbies: Eating, reading, and drawing.
Plans after...