Harroun loves animals, music, reading
Hang on for a minute...we're trying to find some more stories you might like.
Alumna Ashley Harroun, Class of 2019, has a big heart and a strong bond to many species of animals.
Many people think that reptiles and insects are gross and could care less for them, but Harroun loves them no matter what they are or how they look.
She has always had a strong bond to the living creatures, especially her own pets.
"I love all animals, whether their furry or scaly," Harroun said. "I have always had a deep connection with animals that I've never had with people. When I was at my lowest, the ones I leaned on the most were my dogs. They always knew when I was sad, and they cuddled me, and would not leave my side."
Harroun loves to listen to music when things become quiet.
"I hate silence," Harroun said. "I always play music, either just as background noise or for jamming out, but I'm always listening to music."
Reading was her escape when she was younger, especially because she suffered a lot with her mental illness, so she would submerse herself into a book and some music. It helped her a lot when things got tough, and she has made it very far since then.
"Being able to create a whole other world in my head is a really good coping mechanism for me," Harroun said.
Harroun also uses painting as a way to escape and to fill up her free time.
"Art was always a unique way for me to express myself when I felt like I was being suppressed by my mental illness," Harroun said. "Painting was always the most interesting to me because of how different it is."
Her ultimate goal is to help as many animals as possible, no matter the species, by possibly helping abandoned pets or strays from the streets or even trying to help stop animal cruelty.
She hopes that, eventually, animals will be more than just pets.
"I hope that in my lifetime animals will be seen as family members, as equals, to humans, rather than property."
Harroun plans on becoming a veterinarian. She hopes to get a bachelor's degree in biology and then go on to get her veterinary license. Harroun will be attending Mott to take her prerequisites. Afterward, she plans on transferring to UM-Flint to finish out her degree.
In addition to veterinary medicine, Harroun is also interested in the reproductive health of animals, and she hopes that it could possibly be a specialty that she pursues.
Harroun is sad to leave the people here at KHS but is excited to go onto the next chapter of her life.
"I'm so excited to graduate," Harroun said. "But I will miss my teachers. They were amazing throughout my high school years, and I'm sad to have to leave them behind."
She has had many friends who helped her through high school.
"Some friends who had a huge impact on my life would be my boyfriend, (alumnus) Derrik Kirk, and (junior) Jared Haack," Harroun said. "They always make my day brighter and give me motivation to come to school."
With her big heart, Harroun will go far in life.
About the Contributors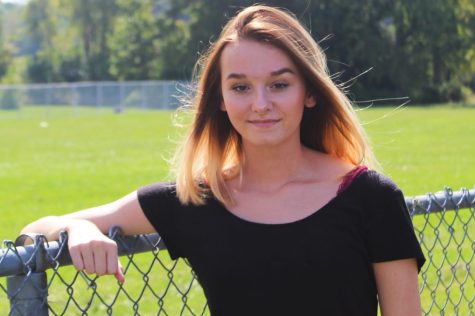 Cassie Horne, Reporter

Birthday: Dec. 18, 2002
Hobbies/Interests: Cheer, and hanging out with friends.
Favorite Quote: "That's always seemed so ridiculous to me,...