Arambula may be a beauty, but she trains like a beast
Hang on for a minute...we're trying to find some more stories you might like.
When taking a first glance at senior Mariana Arambula, many may begin to admire her stunning brown eyes, radiating smile, or curls that frame the sides of her face.
But it'd be foolish of anyone to believe that her elegance is the only thing that is everlasting. Her craving for success is as well.
For Arambula, there is no such thing as a day off, and she constantly chases her goals.
Whether she buries her head into textbooks, practices for an upcoming sporting event, or prepares for her future, Arambula is always busy with something.
Arambula's favorite stress-relieving hobby is exercising.
"No other feeling compares to the one I receive when at the gym. I feel at peace," Arambula said. "Working out gives me purpose. Every time I go, the goal is to work harder than I did the last time."
Arambula goes to the gym to organize her thoughts and take care of her health.
The way in which she trains helps improve her playing when it comes to volleyball, powerlifting, and soccer.
Seeing the gain of every outcome and not the pain inspires Arambula to keep working hard at everything she does.
"Seeing the results always feels great. It makes you feel better about yourself," Arambula said. "It's not easy whatsoever, but once you begin to use it as a way to relieve stress and time to think, it becomes a form of therapy."
Arambula's ambition to better herself has inspired others to do the same.
Senior Riley White, a friend who exercises with Arambula often, is one of the many that Arambula has inspired.
"Mariana always pushes me to do more and more at the gym," White said. "Even when I want to give up and quit, she never lets me. She is such a genuine person and is always putting others before herself."
The dedication Arambula has to working toward her goals all strive from her ambition for improvement.
"Her ambition surprises me every single day," Brenda Arambula, Mariana's sister, said. "She is the most hard-working person I know. She is so strong."
Although a majority of Mariana's time is spent at the gym, she also loves traveling and spending time in nature.
Whenever she goes on an adventure, she constantly takes pictures of her surroundings.
"The world we live in is so complex, you can never see enough of it," Mariana said. "I plan to see more of it as I grow older. I love meeting new people and seeing new places."
In fact, Mariana has already met people outside of the country.
After being born in the United States, Mariana moved to Durango, Mexico, with her family, living there nine years before moving back to America.
Mariana's appreciative spirit has radiated and drawn many friends toward her throughout her seven years in America.
Senior Demia Johnson said that Mariana is one of the best friends that anybody could ever ask for and that she makes everything better.
When with friends, Mariana enjoys school dances, dinner dates, car rides, and going out to do the simple things, like taking walks and having deep conversations.
When Mariana sees her future in America, she sees her friends by her side, a career as a gynecologist, and a beautiful family and home.
But instead of only dreaming of her dreams like many, she chases them and works for them daily.
Similar to the way it'd be foolish to belittle what she is capable of, it'd be foolish to not to follow her footsteps.

About the Contributor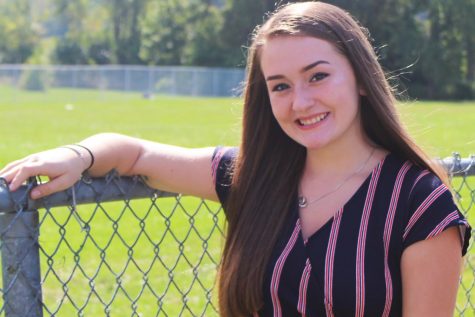 Krista Staley, Opinion Editor

Birthday: March 25, 2001
Hobbies/Interest: Writing, reading, and painting.
Favorite Quote: "Those people who tried to bury you didn't know...