Despite heart condition, Christensen lives life to the fullest
Hang on for a minute...we're trying to find some more stories you might like.
Homework, boys, and sports are the typical things you would think of when asked to describe the life of a 17-year-old girl.
Hypoplastic left heart syndrome is not something that you would generally add into the mix, but for junior Anya Christensen, that is her reality.
HLHS is a condition where the left side of the heart is underdeveloped and leaves the patient with half of a working heart.
It is rare, as it only affects two to three babies out of every 10,000.
Christensen has another heart defect in addition to HLHS, which makes her case even more rare.
Christensen has had four open heart surgeries. Throughout these surgeries, she has been replumbed to use only the right half of her heart.
Instead of the blood flowing from the bone marrow (where it is made) to the heart and lungs, it skips going to the heart first and travels directly to the lungs. From there, the blood goes through the system as normal.
Despite her heart condition, Christensen lives life to the fullest.
She is an active member of the junior varsity bowling team.
Christensen has been a member of the Kearsley bowling program since fifth grade and a part of the high school team for the past two years.
Christensen decided to start bowling as a way for her to get involved, as well as something that was possible for her to do with her heart condition.
"I wanted to do something that I can do," Christensen said. "I wanted to be social with everyone and still be able to participate."
Junior Delanie Schreiber, Christensen's friend and teammate, is thankful for all of the times that Christensen has been there for her.
"I recall so many days where I would be sad about something that had happened or a bad score, and she'd look me in the eyes and say, 'It'll be OK,'"Schreiber said. "She's such a great team member. She cares about more than just the score. She cares about all of us."
Along with bowling, she has attended the North Star Reach summer camp every year for the past four years.
North Star Reach is located in Pinckney. It specializes in children with serious or life-threatening health challenges.
"Camp is my safe place," Christensen said. "I'm really sad that I will age out of it before summer comes, so this year I will not be able to go as a camper. Hopefully, I will be able to become a counselor."
Christensen also loves to hang out with her friends, play with her dogs, and go for rides to The Mounds in her parents' Jeep.
Mrs. Holly Johnson, Christensen's mother, is proud of all that she has accomplished and loves their close mother-daughter bond.
"Anya is one of the most giving people I know. She is always willing and wanting to help others," Johnson said. "Teenage years are hard between a mom and daughter. The fact that we can still hang out together is priceless.
"I hope we always stay this close. She is goofy, fun, and never lets other opinions of her change her. She beats to her own drum and is proud to be unique."
Christensen's bubbly personality can put a smile on anyone's face.
Junior Myia Brown feels that Christensen's personality is her best quality.
"If I had to pick, I'd say that Anya's best quality is how she can make me smile, even if I'm in a bad mood," Brown said. "It just lightens up my day."
Brown would also like to make note of Christensen's loyalty.
"I feel that everyone needs to know that even if she's small, she's mighty," Brown said. "She will stand with you for as long as she can."
Through it all, Christensen has always remained cheerful and kind to everyone.
"No matter the situation you are in, you can be kind," Christensen said. "It really bothers me when people are mean to others. We are all the same in reality."
About the Contributors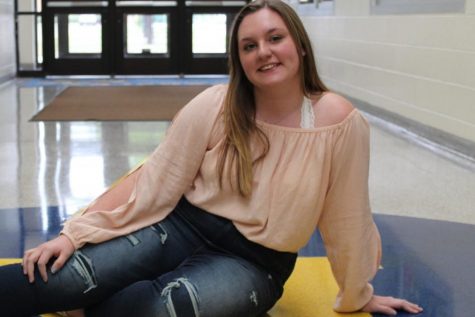 Elizabeth Taylor, Managing Editor
Class: Senior

Hobbies: Horseback riding and bowling.

Future Plans: I plan on attending a university to study optometry.

Favorite Book: "The...