Jillian Locke's passion involves sports, choir
Hang on for a minute...we're trying to find some more stories you might like.
Sophomore Jillian Locke is a blonde hair, blue eyed beauty with a laugh that is very contagious.
Locke has a warm and welcoming personality. She loves making new friends and enjoys making people laugh with her jokes.
Locke enjoys bowling, hanging out with friends, playing tennis, playing volleyball, singing, making crafts, and also arguing politics.
Locke has been a part of many different sports for over eight years.
"I enjoy playing sports because I love staying busy, and it makes me feel like I have a purpose," Locke said.  "It's also nice to feel like you're a part of something and accomplish a goal together as a team. I also love meeting new people with each new sport and trying new things."
Locke has been playing volleyball with her mom since second grade, and she started playing in the youth league in third grade.
She started playing tennis the summer before her freshman year.
Locke has been involved with bowling since second grade. She was also active in the youth league up until fifth grade.
In addition, Locke recently got back into bowling her freshmen year and continues to bowl regularly.
Senior Madi Van Hamlin became friends with Locke through bowling.
"Jillian has had a huge impact on my life since I met her," Van Hamlin said. "She has always been helpful with my school work and any advice I ever need. She is a very intelligent and supportive friend."
Locke and Van Hamlin bonded over bowling and continued their friendship outside of the sport as well.
Locke lives with her mother, Ms. Sherry Sanford, her grandmother Ms. Yvonne Sanford, and her dog Boots.
Locke's mother is her inspiration.
"My mom is a great role model for shaping my views in life, meaning she has helped me become more independent, which I learned is how I want to be in life," Locke said. "My mom has established my drive and need to succeed in life. She shaped me into the independent and successful person I am today."
Locke is grateful for the bond the two have, and aspires to be like her one day.
"My mom and I have a special type of relationship. We are really close. She is my best friend," Locke said. "She's not the type to sugar coat anything with me. So when I ask her if I handled an issue right, for example, shes not gonna hold back if I'm wrong."
Junior Niccos Patrick has been friends with Locke since last year. They met while auditioning for the school play.
"You know those 2000 teen drama movies where the main character and best friend of like six years have a fight but in the end become friends again?" Patrick said. "Yeah, well, that's basically our friendship — minus the fighting part."
Patrick also said he and Locke spend countless hours talking on the phone.
"Jillian is great friend. She's always there for me, and I'm there for her," Patrick said. "We have this tradition where we like to facetime each other around midnight and spend hours of the early morning talking on the phone with each other."
Singing is a major part of Locke's life. She has been singing since the age of 4. She looks up to her mom as her inspiration in singing as well.
Locke joined choir in sixth grade and has stuck with it ever since. As a freshman, Locke went right into Treble Singers, which is a all women's group that is divided into alto's and sopranos.  Because Treble Singers is an advanced choir group, getting into it as a freshman was quite an accomplishment for Locke.
In the 2017-2018 school year, Locke made it into Melody Makers, the highest choir to sing with. It is a combined choir of boys and girls that travels to places to perform.
Earlier this year, Locke decided to try out for solo ensemble, which is a competition where soloists compete in front of a panel of judges and get feedback based on their performances. Locke was a bit weary of trying out for solo ensemble because of her anxiety of performing in front of people, but she decided to not let that stop her from achieving her goals.
Locke spent about eight weeks preparing for her performance, making sure everything was perfect before she had to face the judges.
On the day of her performance, only a few people were allowed to sit in on her performance: Mrs. Renee Kotizan, choir teacher; Mrs. LynnLusty, accompanist; Locke's family; and a couple of close friends.
Locke ended up scoring 109 out of 120, earning a one, which was the highest score from the school.
With Locke's passion, she has preformed at several choir concerts at the school and participated in two of the school's plays.
Locke said she enjoys singing because she can express herself.
"I love to sing because I have been doing it since I was young, and it is something that always makes me happy, even at the worst of times," Locke said. "When I can sing a song a certain way that sounds good, it makes me feel accomplished."

About the Writer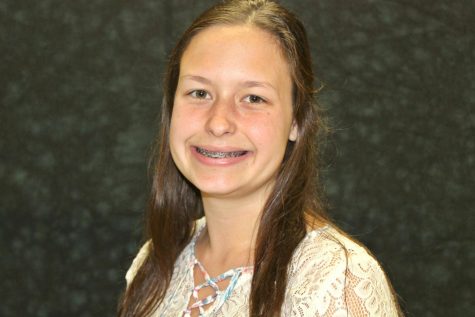 Morgan Brode, Reporter

Birthday: October 26, 1999
Extracurricular: Bowling
Hobbies: Coloring in stress-free coloring books.
Plans after high school: Attend college...