Women's History Month: Ellen DeGeneres' generosity makes the world a better place
Hang on for a minute...we're trying to find some more stories you might like.
This story is part one of a five-part series.
Ellen DeGeneres has built an impressive reputation for herself in the entertainment business. She is a respected comedian, talented actress, and a prominent figure in Hollywood.
She has been in the public eye since the 1980s after initially performing on "The Tonight Show Starring Johnny Carson." After her big debut she was invited to appear on other big-name shows like "The Oprah Winfrey Show" and "Good Morning, America."
After this first series of performances, Degeneres has only intensified her presence in the comedy world. She's kept up a busy schedule, doing voice acting, hosting award shows, and starring in sitcoms.
While her comedic talent brought her fame and attention, Ellen's generous heart and urge to give to others has kept in her in the public eye as a positive role model.
Junior Nadia Calvert relates to Degeneres and enjoys seeing her perform nice acts.
"She's a fellow member of the gay community, and how she gives away money and prizes is great," Calvert said.
Most recently, the comedian surprised the audience of her daily talk show "The Ellen Degeneres Show," with $1 million to be split among them. The money served as a reward for the audience members, who were being recognized for their spectacular acts of kindness.
Degeneres had partnered with Cheerios to promote a One Million Acts of Good project. To inspire her audience and reward their good deeds, she recognized a few of the good-doers like Ms. Lori Gaines and Mr. John Hughes, and gave away the largest amount of money she ever has on the show.
Bailee Stevens, senior, has watched Degeneres give away many gifts and is happy to see the talk show host focus on her audience.
"I've watched a few videos about her doing stuff like that, and I think it's so nice," Stevens said. "I feel she focuses on people who really need it."
While this donation is definitely the most generous among Degeneres' contributions, she has always tried to give back to her audience and communities across the nation.
Degeneres is known to host her show under the name the "12 Days of Giveaways" during the Christmas season. During this time she gives away prizes like Marc Jacobs purses, airline tickets, and resort stays.
By incorporating this tradition into her show, Degeneres gets to give back at least once a year, though she is known to give and donate all year long.
"
A lot of people can't afford the things she is giving to them and makes them feel better about themselves."
— Brooke Mannor, senior
The prizes given away during this time are usually worth between $1,000-$4,500, and inspire others to pay it forward.
Degeneres not only works on her own volunteer projects but supports many others with a wide range of causes.
These organizations include PETA, GLAAD, and the It Gets Better Project. Degeneres is passionate about helping animals and people in need.
Senior Brooke Mannor believes Degeneres' acts of kindness is a great way to spread positivity.
"It's a very generous thing that she does," Mannor said. "A lot of people can't afford the things she is giving to them and makes them feel better about themselves."

About the Writer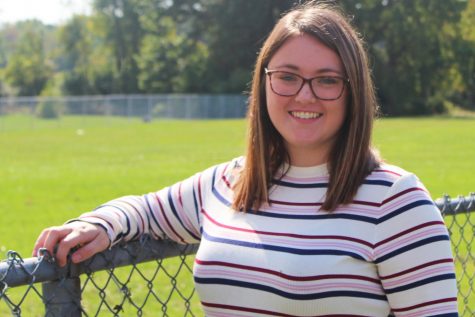 Autumn Prescott, Special Projects Editor

Birthday: Aug. 2, 2001
Hobbies/Interests: NHS, drama club, Freshman Mentors.
Favorite Quote: "Find out who you are and do it on purpose."...