Women's History Month: Chloe Kim inspires girls to achieve greatness
Hang on for a minute...we're trying to find some more stories you might like.
This story is part two of a five-part series.
If you do what you love, you'll never work a day in your life.
For us, it seems like a cliche because it is what parents tell their children.
To Chloe Kim, an Olympic athlete, it is much, much more.
Although not a woman yet, Kim, a 17-year-old Olympic gold medalist, is, without a doubt, an inspiring teenager.
Kim's parents immigrated to the United States from South Korea and brought her into the world in Long Beach, Calif. She grew up in Torrance, Calif., and began snowboarding with her father at the early age of 4.
At only 6 years old, Kim began competing at her local resort, Mountain High, on Team Mountain High.
From ages 8 to 10, Kim improved her skill by training far from home in Valais, Switzerland.
Three years later, Kim qualified for the 2014 Winter Olympics. Because she wasn't 16, she was unable to compete on the USA Olympic team.
Though she was still too young for the Olympics, Kim competed in various other snowboarding competitions, such as the X Games.
This year, Kim qualified again for the Winter Olympics.
At just 17 years old, she won a gold medal for her team in the women's snowboard halfpipe, making her the youngest woman ever to win an Olympic gold medal in this event.
Junior Melinda Blaine thinks Kim is lucky to have had the chance to become an Olympic athlete.
"It's cool that she's only 17 and doing such great things," Blaine said. "She has such a great opportunity to do it — not everybody does."
Lilly Crews, freshman, feels inspired by Kim's performance at such a young age.
"It makes me feel like I could do better in cheer," Crews said.
In her victory lap, Kim performed two back-to-back 1080s, a three-revolution trick that takes place midair, and scored a whopping 98.25.
After completing her round, Kim told NBC that she was "tearing up and wanted to cry," but she knew that she wouldn't be satisfied if she never tried, even if she did get to go home with the gold medal.
Halfpipe is scored on a scale of one to 100 points.
Though a 98.25 may seem like a high score, Kim has still scored even higher.
Kim has scored 100 points in the halfpipe in the past, a rare event in the snowboarding world.
Not only is Kim an accomplished athlete, she is an intelligent girl.
According to US Ski and Snowboard, she is also fluent in three languages: French, English, and Korean.
Despite her crazy schedule, Kim still attends high school back home to better her education.
In a world like ours, we need young women like Kim to inspire girls all over.
Not only can we do well in our hometowns, but we can better ourselves to achieve greatness anywhere in the world.
Women like Kim teach us to empower ourselves, reach beyond normal expectations, and achieve our dreams, whatever they may be.
If Kim can set world records, so can any other girl out there with enough passion and hard work to get the job done.
Freshman Mackenzie Alexander believes that anyone can do as well as Kim with time.
"It just shows that you can do anything you put your mind to," Alexander said.

About the Contributor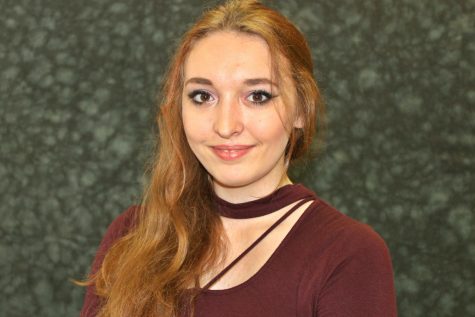 Brianna Horne, Editor in Chief

Birthday: May 11, 2000
Extracurricular activities: Newspaper
Hobbies: Playing violin, hanging with her friends and boyfriend, and horseback riding.
...