Crush for your crush
Celebrating the month of love! The KHS student council, students from the fundraising Committee, along with Mrs. Curtis came up with the idea to do a "crush for your crush." Students fill out a little note card with the recipient's name and 3rd hour that has a message you would want to tell them for Valentine's Day.
This began with the Student Council looking up ideas to do simple things for the community, and after a meeting this was their favorite pick.
The students of KHS share their thoughts on how they feel about this event and Valentine's Day.
"February means a lot to the ones who want to spread their love, whether it's in a romantic or friendly way," noted Katelyn Jacot.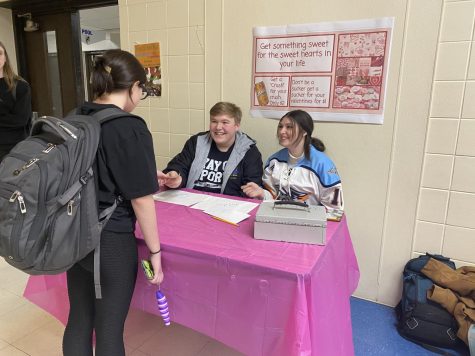 Senior, Katelyn Jacot also claimed that Valentine's Day is one of her favorite holidays to enjoy.
"My favorite part about this holiday is making other people feel special," commented Jacot.
Junior, Ava Boggs supported this and also described why doing a crush for your crush is a great thing to do.
"It's a cute way of asking someone out when you're feeling bold. Also, it is a good way to give back to the school and fund us," mentioned Boggs.
Sophomore, Ethan Walters explained why Valentine's Day is important to him and why he thinks it should be celebrated.
"To show your love and affection to everyone you love, not just significant others. I believe that it's for everyone you love," explained Walters.
Don't let someone be crushed on Valentine's Day. Treat them to a nice crush!